Project information
Location

Haarlem

Project completion

2023

Building surface

10.000m2

Client

Central Government Real Estate Agency
Dating from 1981, the former Surinameweg 4 government office in Haarlem had aged badly. A severe and inward-looking building, it presented a closed and even forbidding aspect to the world. This was bad enough when it occupied a monofunctional office area, but its surroundings are now due to change to accommodate new residential and leisure functions. Charged with renovating and expanding the structure for a new tenant – the Directorate-General for Public Works and Water Management (the Rijkswaterstaat) – and a new life, MVSA's concept was clear: open up!
In other words, our plan was to radically update the building by increasing its transparency, bringing in more daylight and air, and ensuring better interaction between inside and outside. The interior, with its endlessly long, closed corridors and claustrophobic cell-like offices, would be replaced by a more contemporary, open and flexible layout, with space for socialising and co-working. Finally, the building would meet new sustainability requirements with an upgrade to energy label A+ and the use of circular design principles.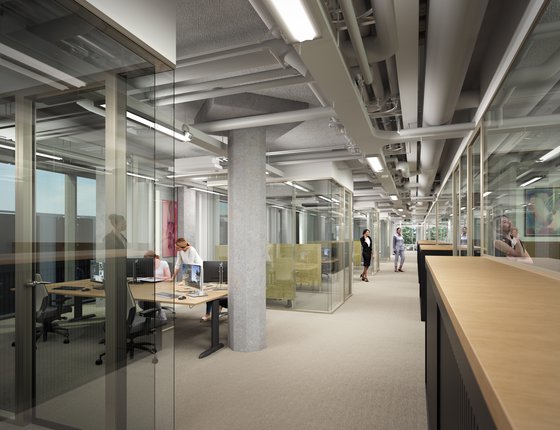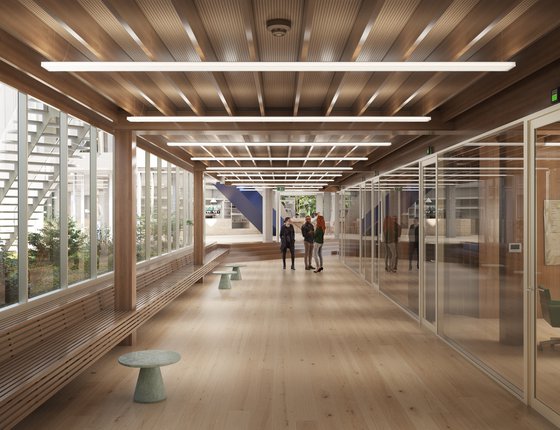 New identities
The Surinameweg 4 building, designed by architectural firm Arnold Numan Oyevaar, is essentially a sequence of linked octagonal blocks on a U-shaped plan. The building's façade was in concrete, dotted with relatively small windows with brightly coloured aluminum frames. The rather Brutalist aesthetic was dated and unappealing and in need of a makeover – all the more so since the site of the building, in Schalkwijk-Midden, Haarlem, is also undergoing a radical transformation. This former monofunctional office location is now set to become a mixed urban neighbourhood, with new residential developments, offices and leisure facilities and an abundance of greenery in line with Haarlem's current ambition to be "a city among the trees". The renovated building needed to embody this new energy.
The first step to transforming Surinameweg 4 was to strip the building down to its bones. In the interests of sustainability, all the materials removed in the process were found new homes and new uses – sometimes repurposed in the renovated building itself.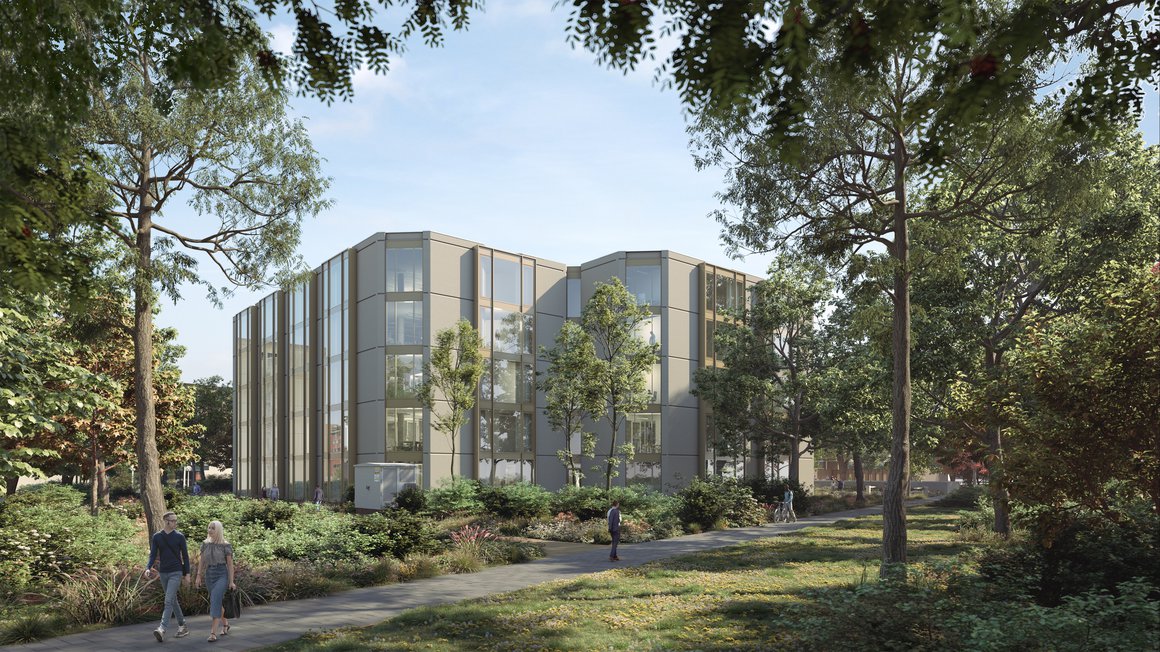 Beautiful bones
Carefully dismantling the structure revealed a beautiful basis for further work: an elegant 6,200m2 concrete skeleton complete with monumental octagonal columns and column heads that were eminently suited to a new, open-plan organisation. In order to preserve the raw beauty of the structure and maximise the experience of space, the new installations are left in plain sight.
The small, colourful windows of the original façade were replace by expansive glass bays, adding daylight, spaciousness and transparency to the structure. These glass bays effectively soften the severe concrete structure. The façade is given an elegant, monotone treatment. The concrete is painted in a warm, natural stone tone, and the bays have anodized aluminium frames with a subtle golden tint.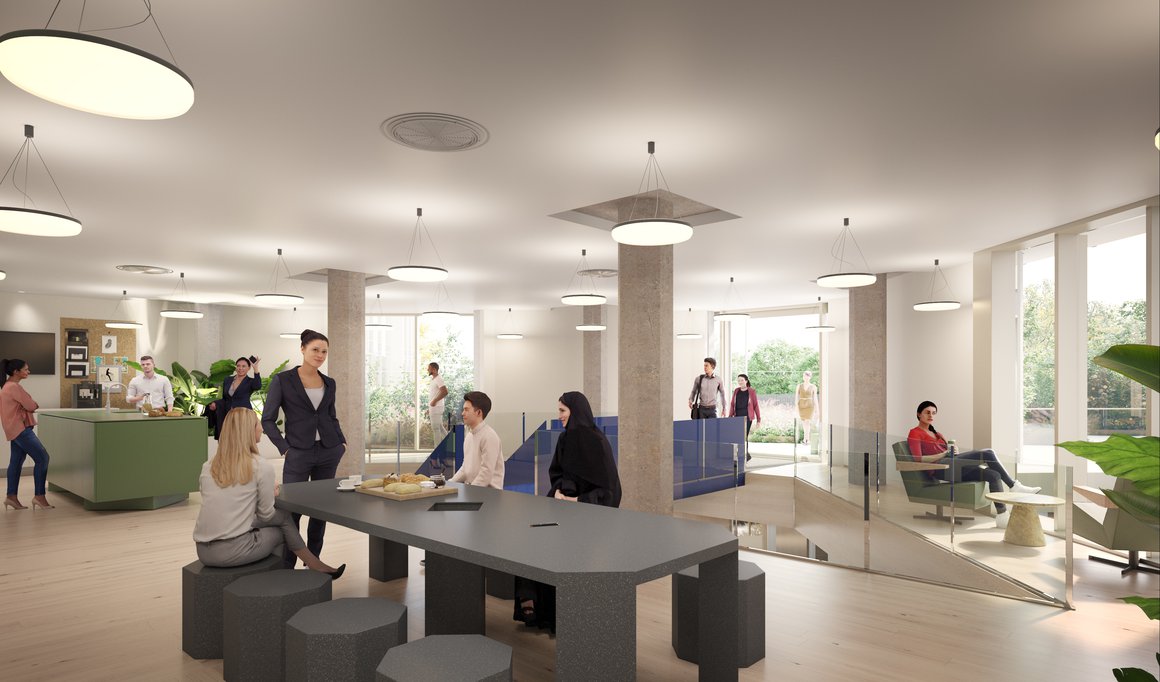 Conscious growth
The new office will house more than 500 employees. It was initially thought that further space would be needed in other buildings and by adding a sizeable new extension that would increase the building's footprint. However, we found it important to preserve the existing footprint and did so by adding a lightweight, sustainable wooden volume, constructed on circular principles, to the U-shaped void of the original design.
This extension simply sits on top of the existing underground parking garage. Building it here made it possible to create an interior patio garden, further helping the building to breathe, and we completed the design with an exterior staircase with views of the surrounding greenery. The landscaping, which is a collaboration with Copijn Landscape Architects, fits in with Haarlem's vision of an urban 'forest' in this formerly grey area.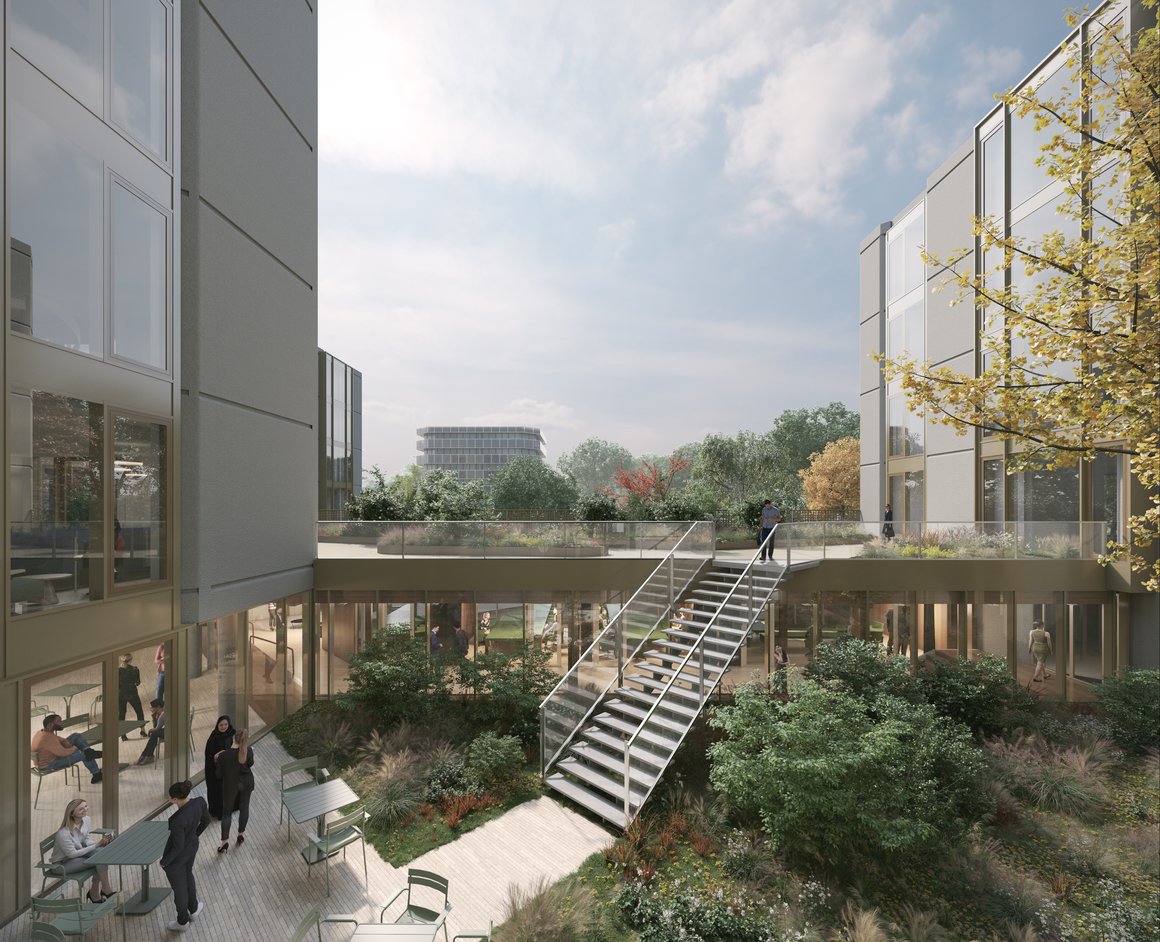 Quality boost
The floor plan actually proved to be surprisingly efficient, and together with the client we were able to create enough space for over 500 employees in this single building. The interior design, a collaboration with Beyond Space, achieves a serene office environment with plenty of air, light and interesting interior and exterior views. The layout on the ground floor is beautifully spacious, with an entrance lobby and a lounge area – a space for meetings, coffee drinking and working – forming the building's social heart.
Our redesign has given the quality of the interior, just like the exterior, a tremendous boost. The concrete columns allowed for the creation of strong diagonals and good sightlines, leading towards the outdoor patio area and allowing for easy orientation. The office spaces themselves feature a variety of compact workplaces and meeting rooms, with the concrete columns, glass partitions and exposed installations giving the whole space a contemporary industrial look. These new open spaces offer flexibility in case of changing needs and make the building future-proof – the best possible use of its architectural and functional potential.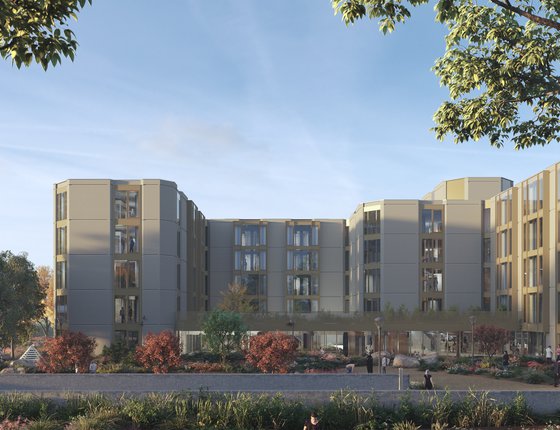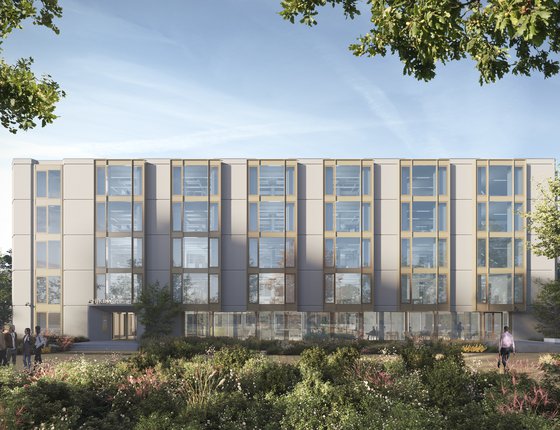 Office transformations
Office revivals are an MVSA speciality. Surinameweg 4 is the latest in a line of unloved concrete office buildings that we have totally transformed – saving them from demolition and giving them a new life in the name of sustainability. Other such transformations are New Babylon, MinFin, More (Banstraat), Kaatstraat and Rivierstaete.
Construction is currently underway on Surinameweg 4 with completion expected in 2023.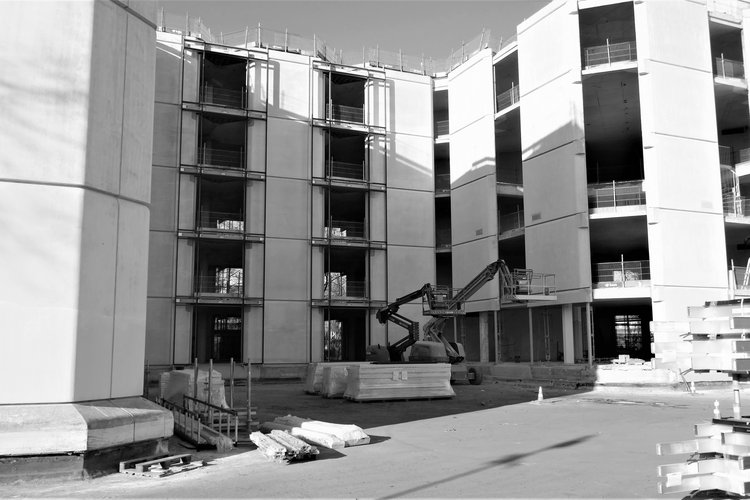 CLIENT

Central Government Real Estate Agency

DESIGN

MVSA Architects, Beyond Space