Thanks to fully or largely glass facades, the work floors of office buildings are bathed in daylight; this contributes, among other things, to the well-being of the employees. The disadvantage of large glass surfaces is that direct sunlight can hinder working at a computer screen or that the interior heats up too much. Due to the use of large overhangs, the work floors receive plenty of daylight in summer, but without direct sunlight; in winter, the low, less warm sun can reach the office floors.
Over time, the glass surfaces have become larger, which was made possible, for example, by the introduction of curtain wall systems made of lighter aluminum profiles. The glass has also shown developments; functional such as clear glazing that allows light to pass through but rejects solar heat, and more aesthetically pleasing such as curved glass for rounded building corners.
The canopies also offer space for greenery, for example, or for the window cleaner. They are made of material that is as light as possible, which also offers freedom of design. In controlling sunlight and heat entry, the overhangs do the major work; often subsequently provides (internal) sun protection and more precise control.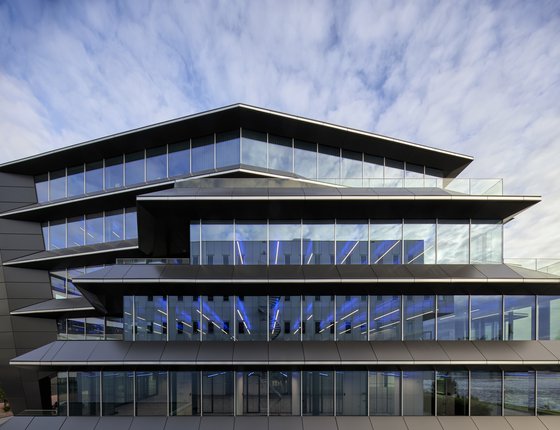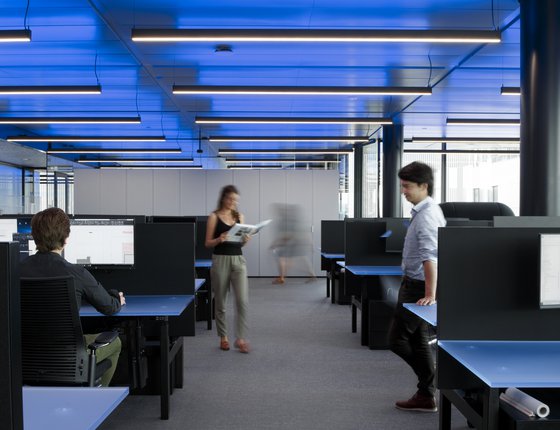 Calvin Klein & Tommy Hilfiger Headquarters