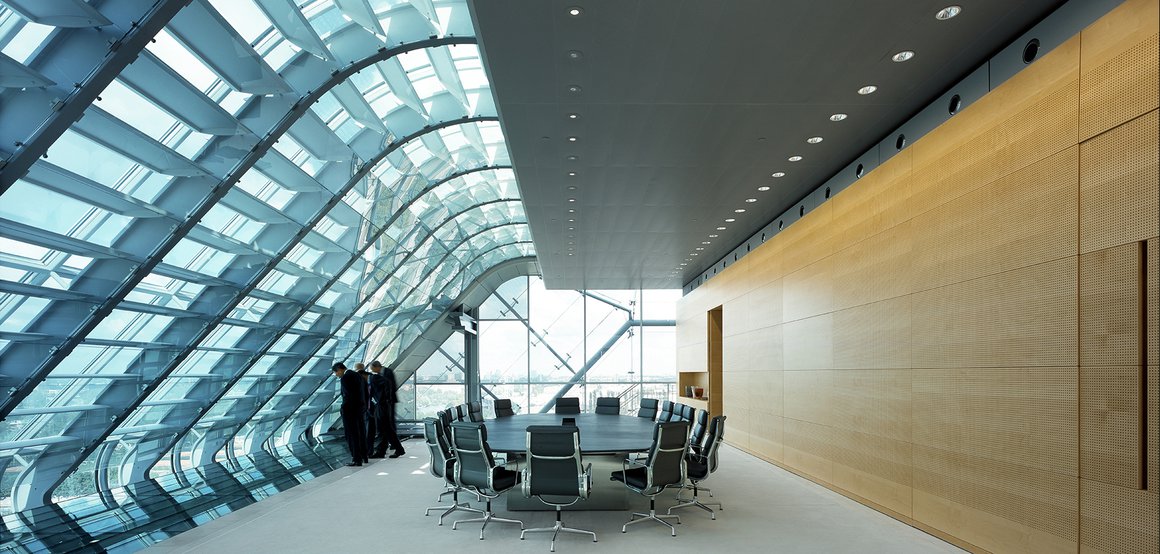 Winner 2002 Office building ING, Meyer and Van Schooten Architecten, Amsterdam
A construction that floats and through which you also have the ability to see. The answer is found in steel and glass. The client – ​​a banker and insurer in a rapidly changing, international world – wanted a new head office that symbolized transparency, innovation, environmental awareness and openness. The building is also the seat of the board of directors and of the staff departments. In addition to office and meeting spaces, it contains an auditorium, a foyer, two restaurants and a parking garage.
The building forms a 'landmark' at the entrance of Amsterdam's Zuidas. The elongated shape follows from the long and narrow plot. Underneath the building, the view from the highway to the green area around the Nieuwe Meer is preserved. The design based on a steel construction has several innovations. The largely transparent double façade, with windows that can be opened, for example, heat and cold storage in the ground and heat pumps. The office floors stand on a heavy table construction, the floor-high 'table top' of which offers space for technical installations. Even the most heavily loaded legs contain castings. The 'nose' of the building houses the auditorium and protrudes 22 m through high steel trusses that have been incorporated into the walls.
Jury report
This office is a landmark in every way. The transparent design is a model for the modern openness in banking, insurance and investment at the client. The floating building volume on legs is a remarkable enrichment for the urban environment. A better entrance to the capital is hard to imagine. The integration of the volume on the long, narrow plot in the middle of existing buildings and infrastructure is admired. The architectural ambition for a transparent and freely divisible office has been translated into a constructive concept in an impressive way. The possibilities of a steel construction with light floors have been fully utilized. The double glass facade that regulates the indoor climate is an innovation for our country. This project is a deserved winner.