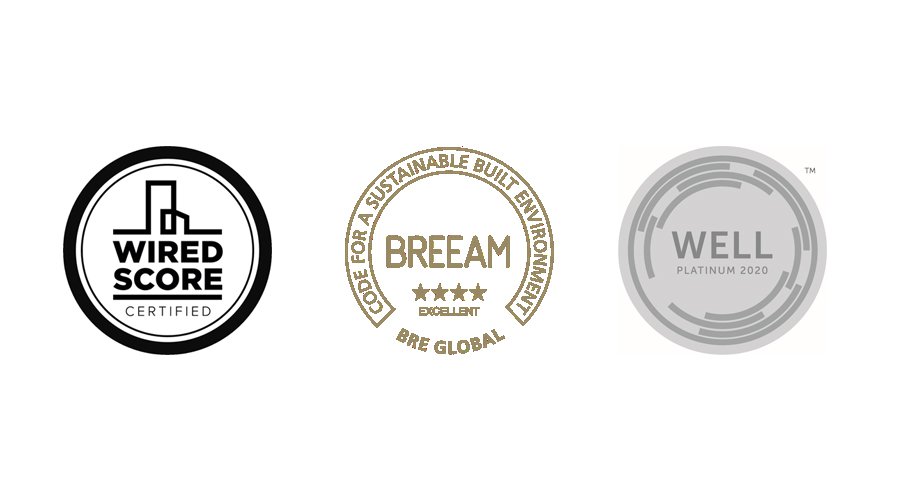 Amsterdam, May 25 2020 – MVSA Architects proudly announces that The Flow has been awarded the WELL Core v2 Certification at Platinum level by the International WELL Building Institute (IWBI). The prestigious distinction was awarded through IWBI's WELL v2 pilot, the next version of the WELL Building Standard. WELL is the premier building standard to focus on enhancing people's health and wellness through the buildings where we live, work and play.
The Flow is designed to bring its user in the flow state of mind. To perform at any time of day. The black diamond construction exists of 6 layers of approximately 7.000 m2 gross floor area. A-state-of-the-art office building with broad opportunities to excel and reload, to connect and disconnect. The design fits perfectly in its surroundings along the IJ at the Amsterdam Houthavens where fresh waves and sea breeze are also daily business. Just mind-blowing.
The WELL Building Standard is a performance-based certification system that combines best practices in design and construction with evidence-based scientific research. The Flow earned the distinction based on ten categories of building performance — Air, Water, Nourishment, Light, Movement, Thermal Comfort, Sound, Materials, Mind and Community — and achieved a Platinum level rating.
" The new order of nearly everything" – The Flow
The Flow makes an impact on first sight. The main entrance is deliberately transparent and welcoming, with stunning LED display walls. Opening on to a relaxed reception lobby, it overturns all the usual conventions. Large expanses of glass mean the building blends into its lively surroundings. Tap into the energy!
The Flow building is designed to the highest standards. Horizontal lines accentuate the dynamic, bridge-like design and highlight the choice of materials: industrial-looking black metal and expanses of glass that maximize the panoramic views. Flow's glass skin ensures that the views of the IJ can be enjoyed from inside, as well as from the generous decks that bring the outdoors into every floor of the building. Wooden decks, referencing the ships that once sailed into the Houthavens port with their cargoes of timber. Reaching the office by water is a special option that offers an unforgettable way to experience Flow.
Unlike other office buildings The Flow understands that people need to relax to make the best work done. To create a stylish and comfortable place, Flow offers amongst others a rooftop venue for inspiring events,  abundant outside space via a private outdoor deck at each office level, climate ceilings and full responsive intelligent systems.
The way that buildings are designed, constructed and maintained impacts the way we sleep, what we eat and how we feel. Innovative, research-backed strategies advance health, happiness, mindfulness and productivity to help you find your own flow and deliver your best performance.
Natural light improves workplace performance. Flow lighting maintains a healthy circadian rhythm and is based on anti-dazzle technology, excellent color quality and an abundant of natural daylight.
Flow was designed with flexibility in mind. Every space can be configured in several different ways. Workplaces can be positioned in a variety of formats. Elevators, staircases and toilets are core communal elements. Shared spaces in the lobby and on the top floor offer extra possibilities for entertaining guests as well as hosting special Flow events.
Flow's top floor offers a truly inspiring experience. An expansive roof terrace with panoramic views provides a space for relaxation, entertaining and performing – a unique setting where you can present your new ideas, products or solutions to the best effect. A large indoors presentation space adds to your options. The rooftop space comes equipped with a bar, an terrace and a perfectly curated selection of music and designer furniture. Eat, meet, party on the 5th floor. Work-life balance acquires a whole new meaning.
WELL is grounded in a body of evidence-based research that explores the connection between the buildings where we spend approximately 90 percent of our time, and the health and wellness impacts on the people inside these buildings. To be awarded WELL Certification by IWBI, The Flow underwent rigorous testing and a final evaluation was carried out by Green Business Certification Inc. (GBCI), which is the third-party certification body for WELL, to ensure it met all Certified WELL Core v2 Platinum performance requirements.
Partners that helped The Flow achieve its Platinum rating include:
MVSA Architects
TBD
DGMR
Vermaat
G&S Bouw
Savills / Cushman Wakefield
UBS
Valstar Simonis
Van Rossum
Interim Bouwconsult
C2N
BBI
Sinus AV
Sector X
Publications: pr@mvsa-architects.com
© Photo: Patrick Coerse