There were three requirements for the glazing in the facade: highly insulating and sun-resistant glass and a view that was as neutral as possible for the residents. Logically, the choice fell on the Cradle to Cradle Bronze certified Thermobel Energy 72/38, because this glazing has all these properties.
This glazing has a light transmission of 72% and a solar factor of 38%. There is also iplus 1.0 insulating glazing in the facade, this glass has a high thermal insulation (Ug = 1.0 W/(m2 K.), combined with a high light transmission.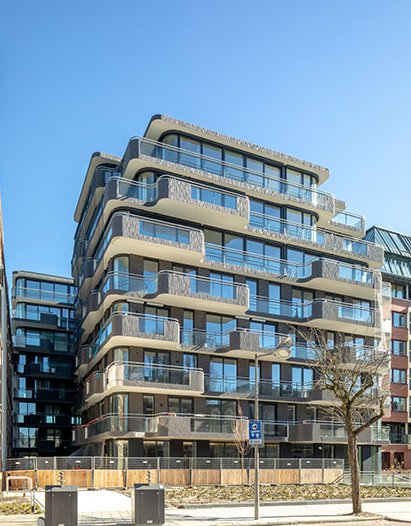 Glass is an indispensable part
Architect Jeroen Schilder of MVSA Architects: "Conceptually, the building has two faces: on the Hobbemakade, De Hooch goes along with the cityscape and on the side of Pieter de Hoochstraat we have created more contrast. Inspired by the beautiful light and sight lines, we have introduced more transparency in the facade here. Glass is an indispensable part of architecture; view and daylight are essential."
For the choice of glass, Schilder considers all technical criteria and properties important, such as fall-through safety, sun ingress, light ingress, reflection values and (test reports of) fire resistance.
The glazing in this building is Cradle to Cradle certified. When asked whether this influenced MVSA Architects' choice of glass, Schilder answers: "The choice for a certain glass is a precise analysis and consideration of the various requirements and properties. Sustainable aspects certainly have an influence on this."