Must seen new architecture in Amsterdam by Arcam
article -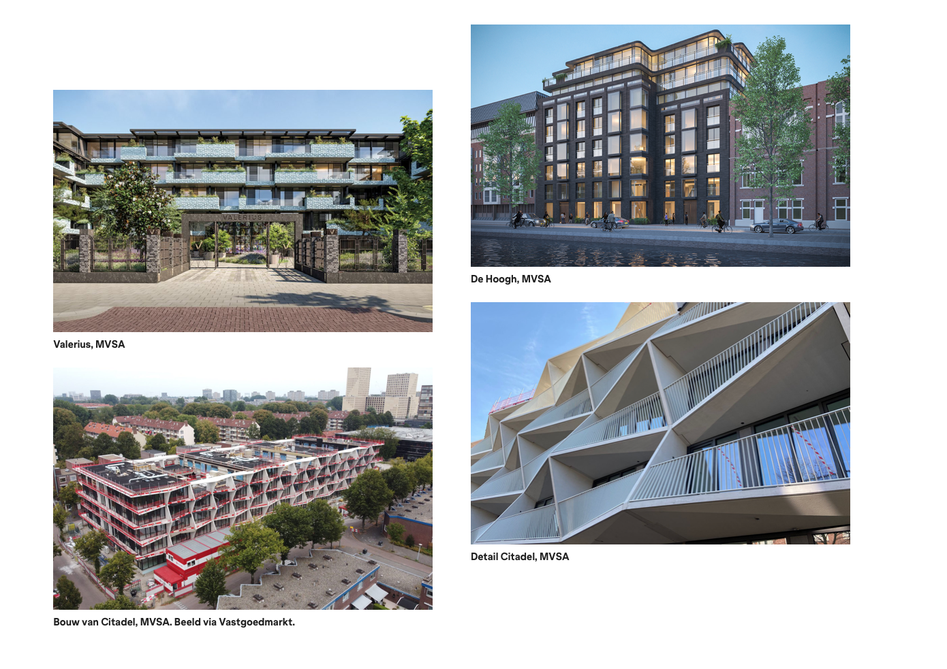 Arcam says:
Architectural firm MVSA, located in their 'own' FLOW on Moersmanskkade, expects to deliver no fewer than three projects in Amsterdam in 2022. Buildings of the Roberto Meyer office can be found throughout the city, and so are these three projects.
Apartment complexes Valerius and De Hoogh in Oud-Zuid and Citadel in New-West. The location of the latter is special. Citadel, an apartment building for the middle segment, is situated opposite the famous complex of 'saw-tooth homes' by the prominent post-war architect Frans van Gool. The blocks of single-family homes, built in 1959, have an experimental floor plan: the facades form a zigzag line, creating a saw-tooth pattern. It was the blue moldings on their roofs that gave the neighborhood its nickname Blue Band, after the packaging of the Dutch margarine brand.
Since the entire Blue Band village has been a protected monument since 2008, the design for the new building was aimed at respecting the context while at the same time giving the neighborhood a contemporary twist. Instead of a high-rise project, which would have been awkward here, MVSA opted for a medium-high project that would not overshadow the existing homes. They have also capitalized on the sawtooth theme with a striking facade of zigzagging white balconies in front of the apartment building.