project information
Location

Utrecht

Project completion

2018

Building surface

93.500 m2

Client

BPD, De Nijs
AIR, our design for a new residential development next to the Leidsche Rijn station, beautifully bridges both aspects of the city: its old-world allure and its dynamic contemporary growth. AIR is a compact complex of 815 new homes, complete with three landmark towers; yet it also recreates the intimate, engaging street feel of old Utrecht, with water, greenery and a profoundly human scale. To create this multifaceted, forward-thinking concept, MVSA joined forces with Mecanoo, Space & Matter and OKRA landscape architects.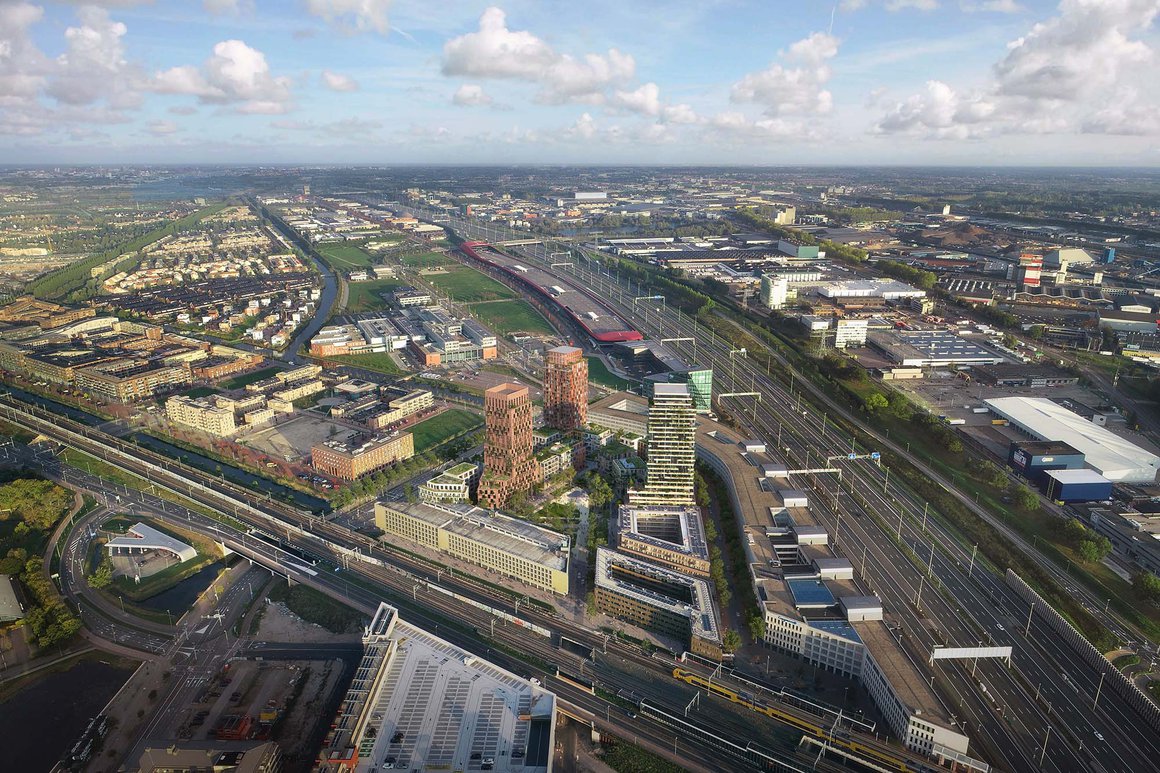 Highs and lows
AIR occupies a wedge-shaped site between the Leidsche Rijn station and the A2 motorway tunnel. The city's plan for the site called for three towers, which could be up to 120 metres tall: the Dom tower, about a 15-minute bike ride away, is 112 metres high. However, we decided that the site should not be dominated by high-rises, in a top-down fashion, but should boast a vibrant, street-level environment – complete with alleys, lower-level buildings, greenery, water, gardens and courtyards, just as we find in the heart of old Utrecht.
In order to create this bottom-up vibrancy, we opted to limit our towers to 90 metres, calculating that this is the optimal maximum height for safeguarding a pleasant climate on the street level below. The architecture of the towers is carefully individualised, while abundant setbacks, recessed window frames, loggias, patios, balconies and stacked green terraces create a pleasant environment for residents and prevent 'wind tunnel' effects below. At the base of the towers, tall plinths house local facilities – bike repair shops and recycling centres rather than supermarkets, which are already located within easy reach. On top of the plinths are green roof gardens, which are linked together, offering space to walk, run, or simply enjoy being outdoors.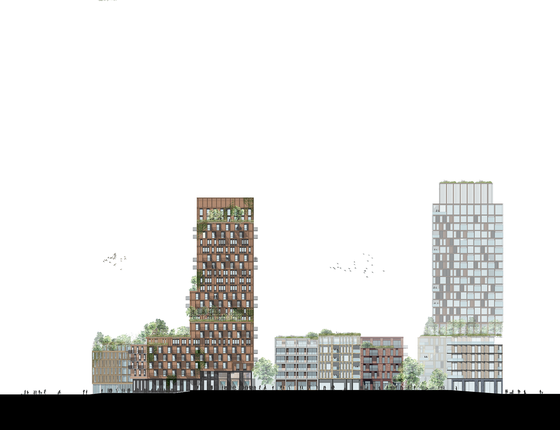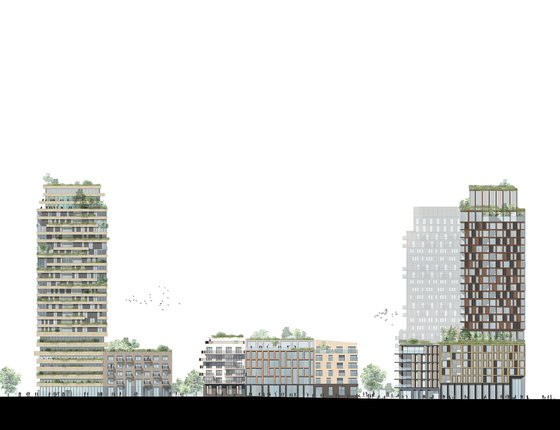 Towers in a village
With their high level of architectural quality, the towers give AIR an iconic presence when seen from afar. Up close, however, the visitor discovers a complex low-level landscape formed by 17 "pavilions", courtyard gardens, a main square, places to meet and sit, and pathways linking everything together – and connecting with the rest of the city. The pavilions are low-rise residential buildings, designed by different architectural offices in the interests of visual variety. They are constructed from wood and other recycled and recyclable materials according to cradle-to-cradle principles.
The programme called for different housing types, from social housing (21%) to mid-range rentals (21%) to owner occupied apartments and investor rentals. The offering includes family homes, as well as one- and two-person apartments. All of this naturally creates a lively social mix which is reflected in the variety of the architecture. As well as varying in height, design and colour, the tower and pavilions feature a wide range of warm, textured natural materials, including brick, wood, ceramic and stone. Earthy natural tones of ochre and umber add to the effect. This palette of colours and materials also ensures continuity with the historic urban fabric of Utrecht.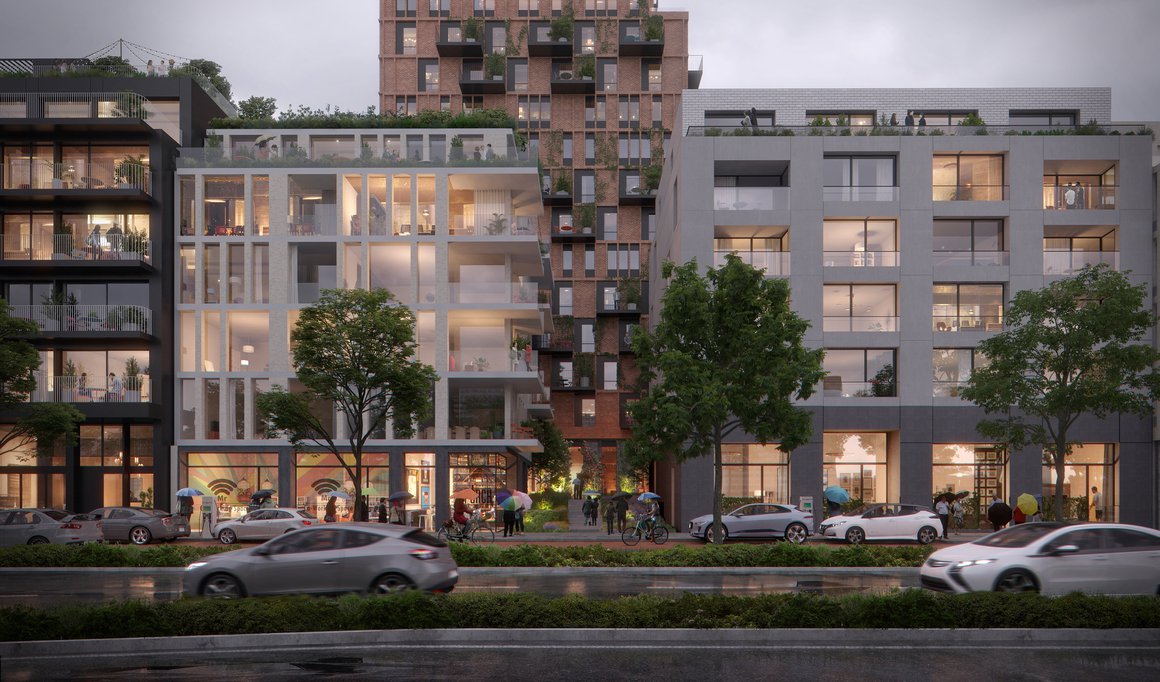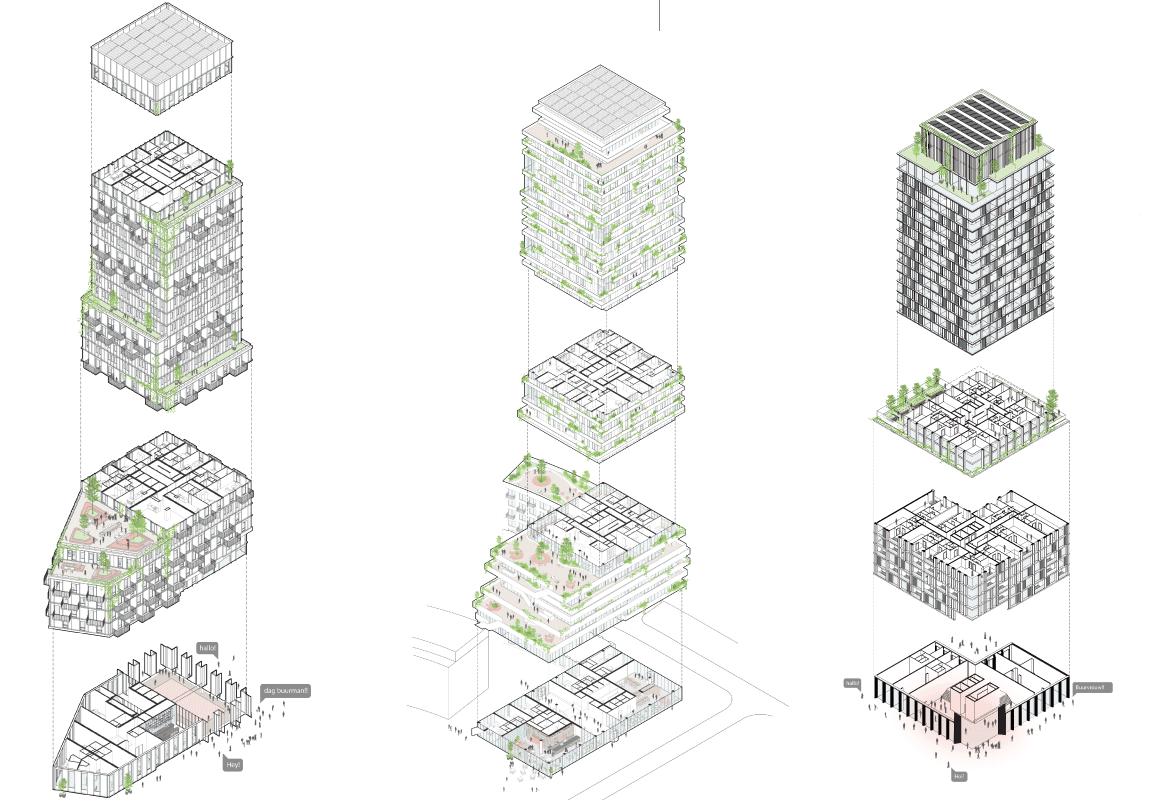 Take a deep breath
AIR, as the name suggests, is all about breathability. The design ensures that residents have space to breathe through the abundance of greenery and outside space, and it also mitigates the air and noise pollution resulting from the nearby A2 motorway tunnel and the railway line. Pollution filters are part of the concept, incorporated in the underground parking garage. Even the plants in the complex gardens were chosen for their pollution-removing properties.
The complex is completely pedestrianised, so there are safe areas to exercise and play and residents are encouraged to walk and cycle. Sleep is also prioritised: bedrooms are completely soundproofed, and the buildings themselves act as sound buffers for the other structures around them. In the towers, one of which (the mid-market tower) is designed by MVSA and other two by Mecanoo, a mix of 50% glass and 50% closed façades makes the best combination for allowing maximum light while minimising noise and energy needs. A cutting-edge PowerNEST installation in the MVSA tower generates energy from both solar and wind sources.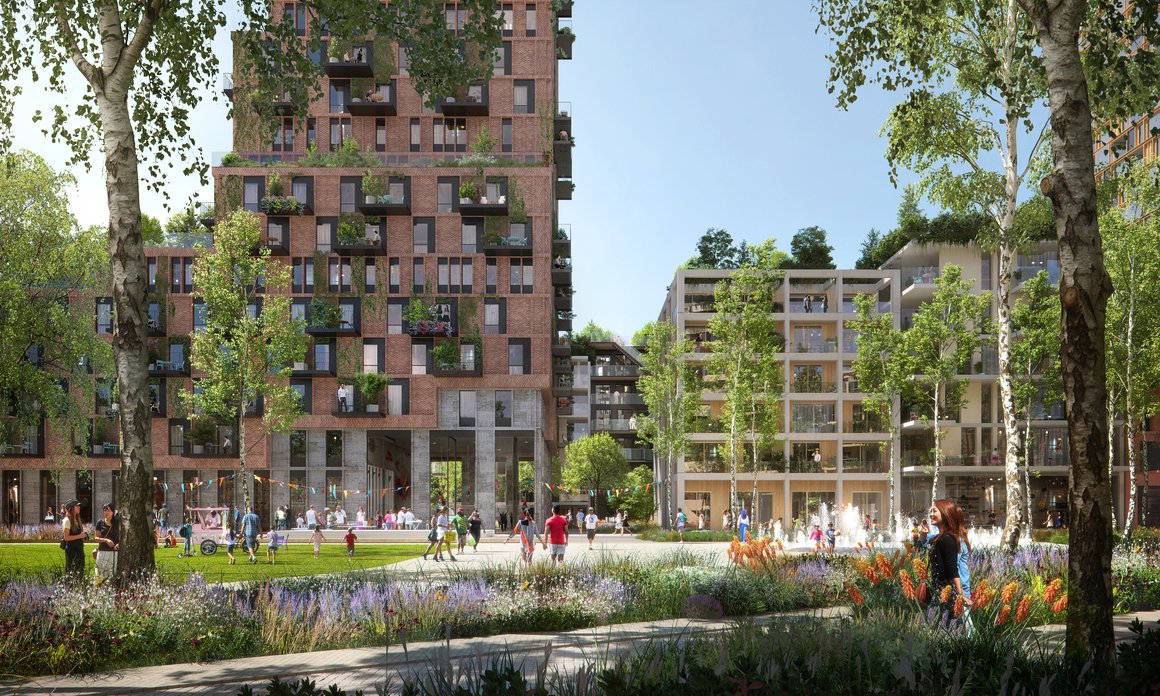 Sustainable lifestyle
Efficient energy systems (including heat exchangers in the foundations and sewage system) and renewable energy sources ensure sustainability, as do rainwater and grey water recycling, buffering via green roofs, the use of recycled materials and flexible room plans. Moreover, the attention paid to outdoor space ensures that the emphasis on sustainability translates into an active, healthy lifestyle for residents.
With all parking underground, AIR is a walkable neighbourhood that's safe for children and cyclists. A 'sustainability coach' is on hand to help residents make sustainable choices in their own homes, and the AIR app even rewards such choices (using off-peak renewable electricity, for example) with points that can be exchanged in the local community shops. Social opportunities also add to AIR's healthy lifestyle: meeting spaces abound outside the three towers, and the inviting layout of the lower levels encourages people to get outdoors where they can meet their neighbours.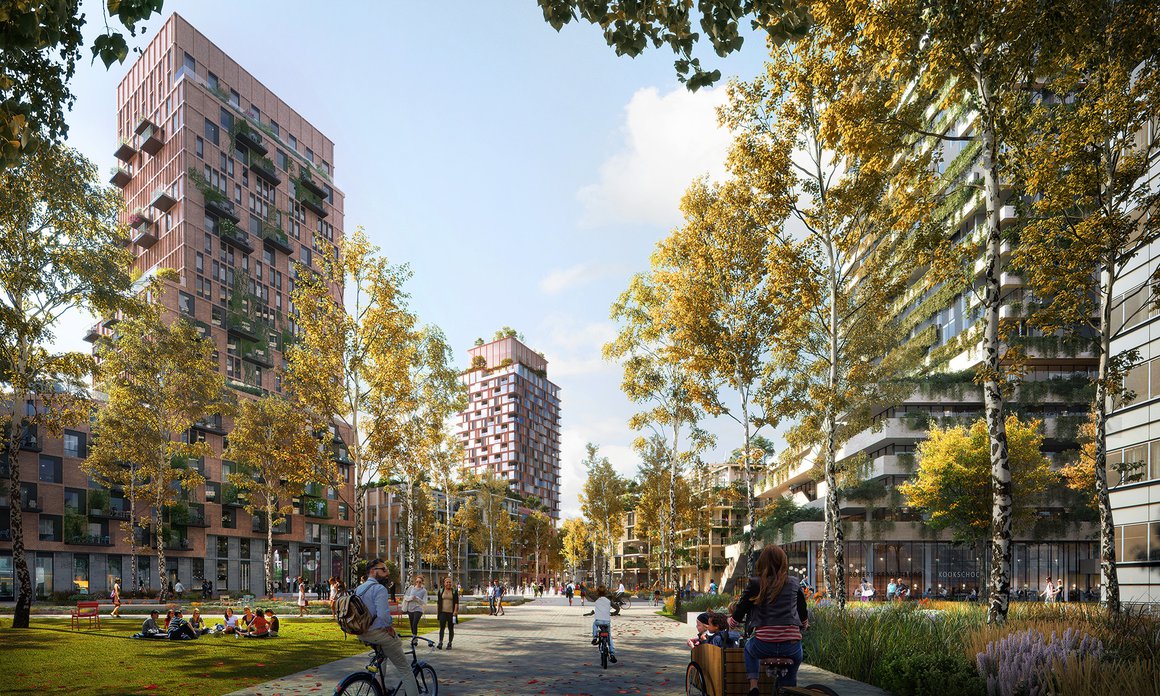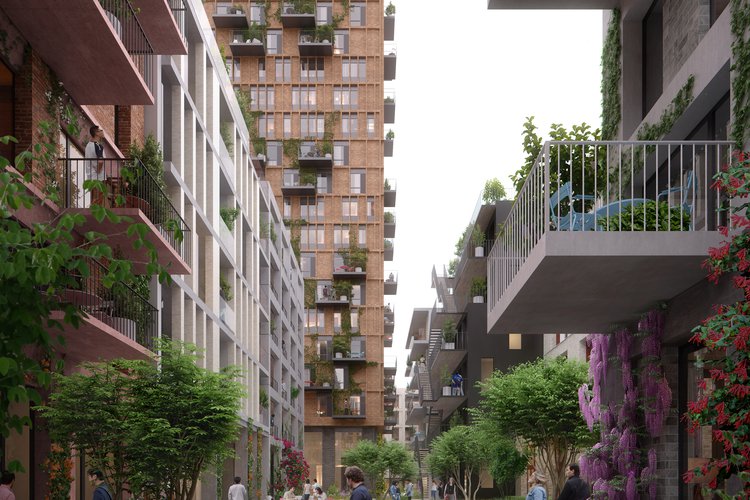 DESIGN

MVSA Architects, Mecanoo, Space & Matter , OKRA landscape Architects

PROGRAMME

Residential, Masterplan/Mobility