Project information
Location

Utrecht

Project completion

2024

Building surface

65.000 m2

Client

G&S Vastgoed; VolkerWessels BVGO
Building a mindset
Today, 54% of the global population live in urban areas. By 2050 this number is expected to reach 85% in the developed world (source: United Nations: World Urbanization Prospects). As our planet undergoes the largest wave of urban growth in history, we urgently need solutions to help nature flourish in the city and restore our connection with it.
Wonderwoods creates a healthy urban microclimate in the heart of Utrecht, building a harmonious balance between nature and the urban environment.
Trees and plants on and around the towers will breathe in carbon dioxide and other harmful gases and breathe out oxygen. They will also absorb pollutants such as dust, pollen and exhaust fumes, massively improving the air quality.
The trees will also reduce noise pollution and energy usage in the homes by providing shade and lowering the temperatures in summer. In winter, they'll shield the buildings – and streets below – from winds.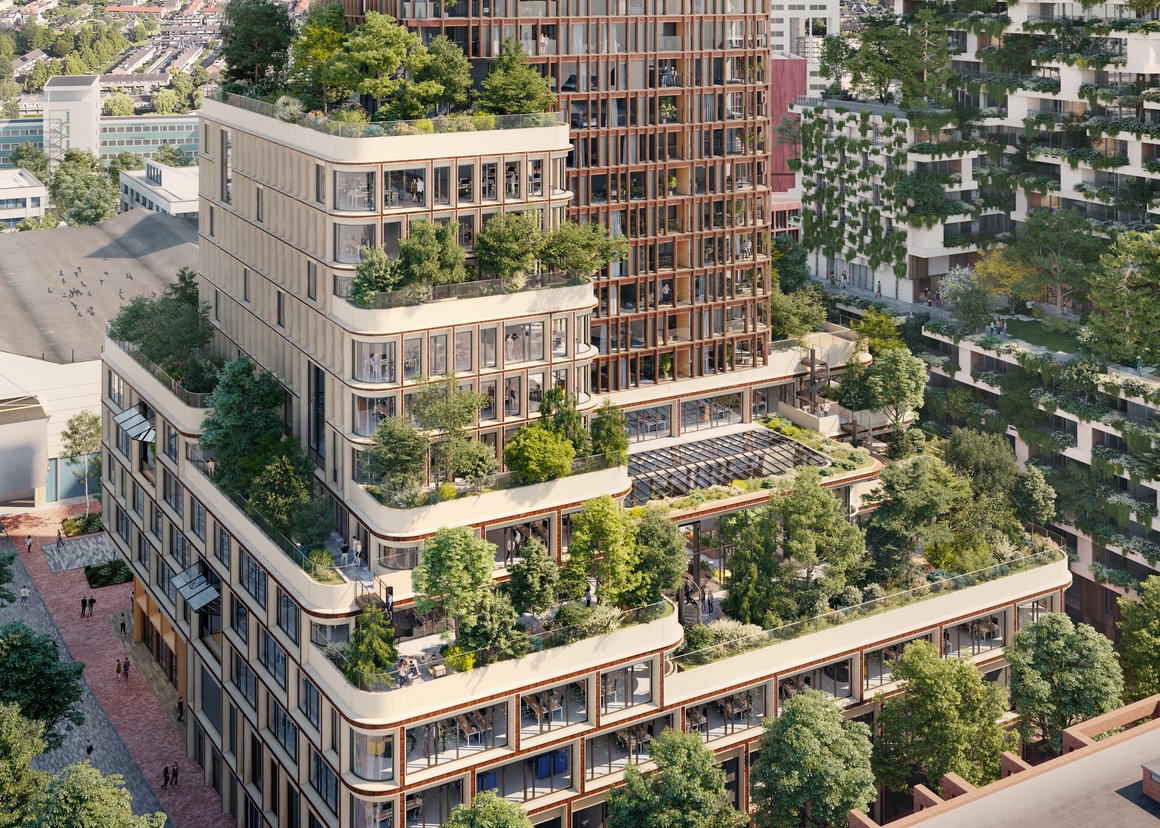 One concept Two towers
Instead of a single, massive volume, two volumes are created.
The two towers are based on the idea of the relationship between nature and technology. They are individually distinct but like-minded.
Wonderwoods is more than just two buildings, it's a blueprint for harmonious cohabitation with nature in the heart of a city. The ultimate goal is to encourage a healthy balanced lifestyle.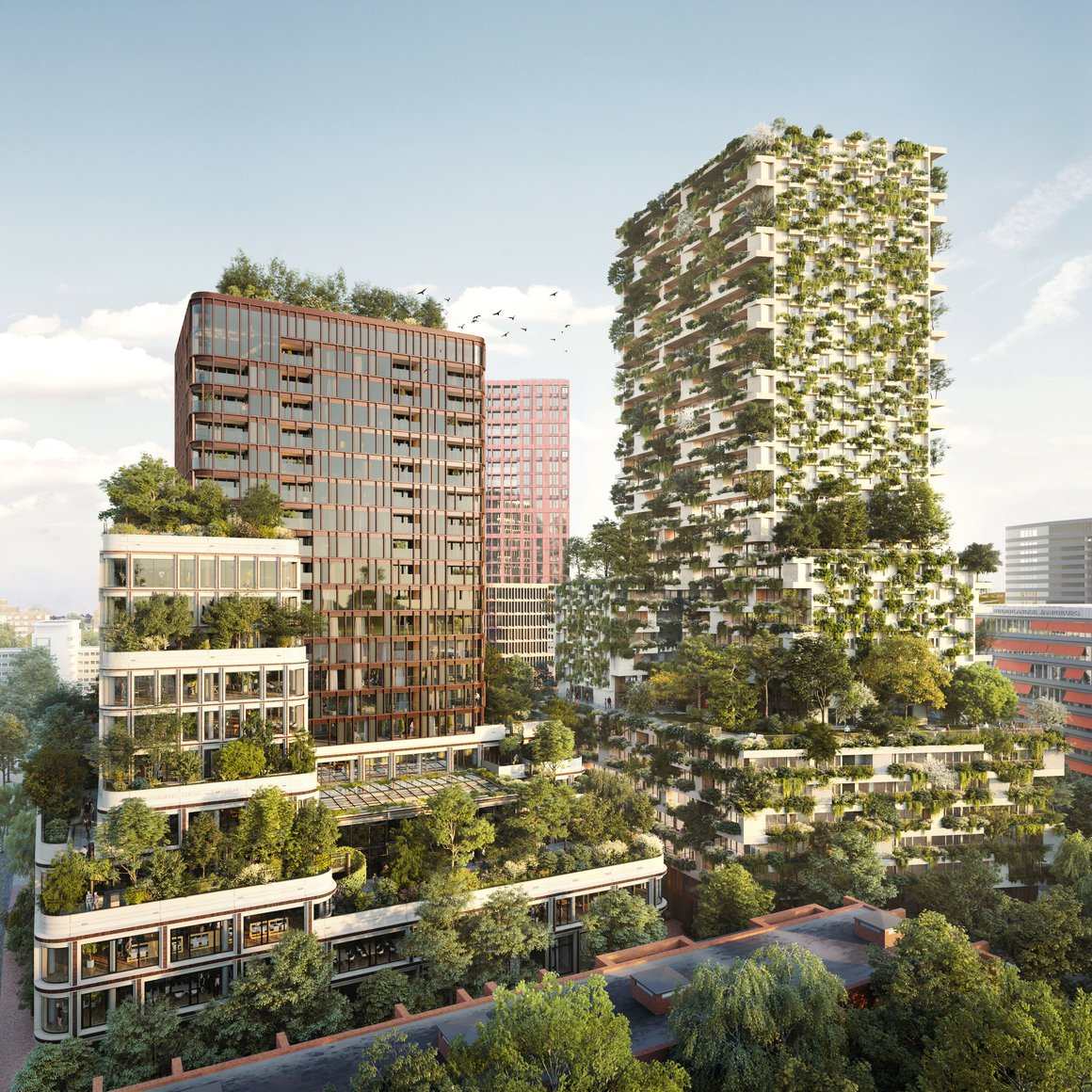 Variations on a theme
A dynamic relationship between the two towers animates the design. Stefano Boeri Architetti's Tower is defined by angular forms and repeating horizontal lines, whereas MVSA Architects' tower features smoothly curving corners and a vertical rhythm. Both towers share abundant green elements and a clear structure of terrace-like, stepped levels, clearly articulating the various aspects of the program – offices, residential and public and commercial spaces – over a combined total floor space of 65,000 m2.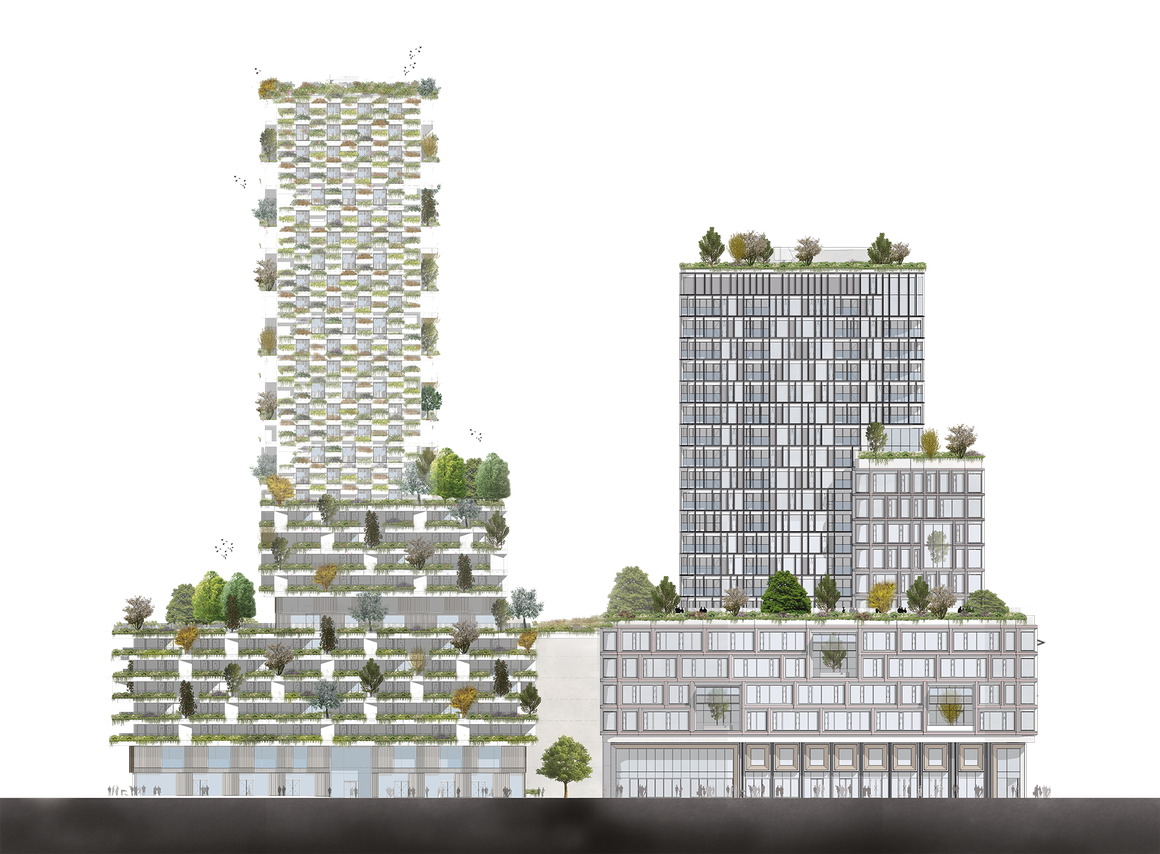 Tower I
Tower I is 'introvert'. It is covered in trees, creating what architect Stefano Boeri, the Milan-based architecture firm renowned worldwide for its innovative Bosco Verticale (Vertical Forest), describes as 'muted' architecture. Nature is surrounding the architecture.
The façade of the around 90-metre tower will host around 360 trees and 9,640 shrubs and flowering plants: the equivalent to 1 hectare of woodland. Annually, it will absorb around 5,400kg of CO2 and produce around 41,400kg of oxygen.
The Boeri tower is a model for a sustainable residential building; a project for metropolitan reforestation that contributes to the regeneration of the environment and biodiversity while reducing urban sprawl.
The tower is an Urban rising from the ground, respecting and enhancing the sizes of the building envelop. It's four overlaid facades define, in fact, a rotation of the body which, arising, detaches progressively itself from the alignment of the Croeselaan street pathway to place itself according to an East/West orientation. The facades of this tower are mutant as for chromatic composition and variation of biological mass thickness, varying according to the season and sunlight incidence.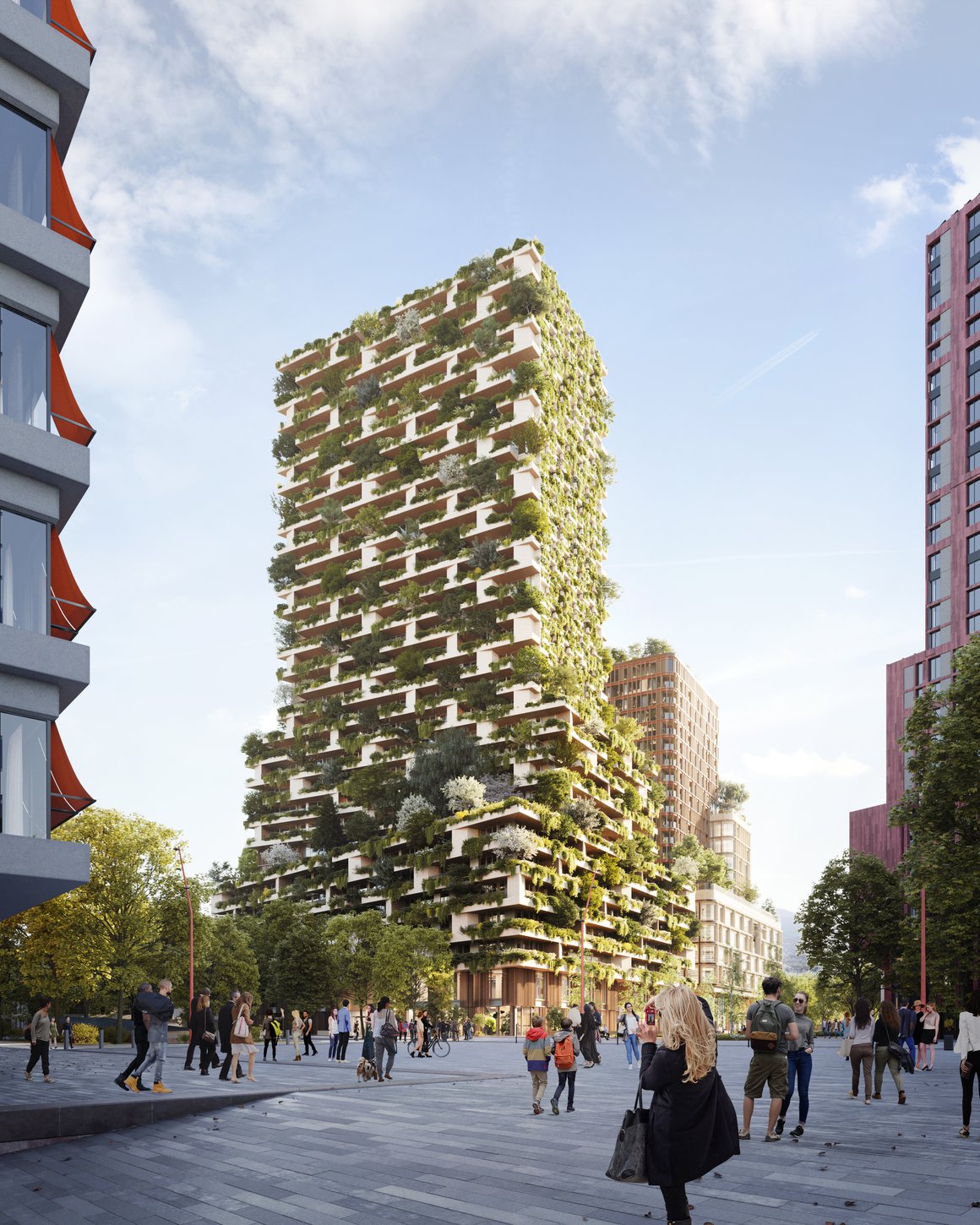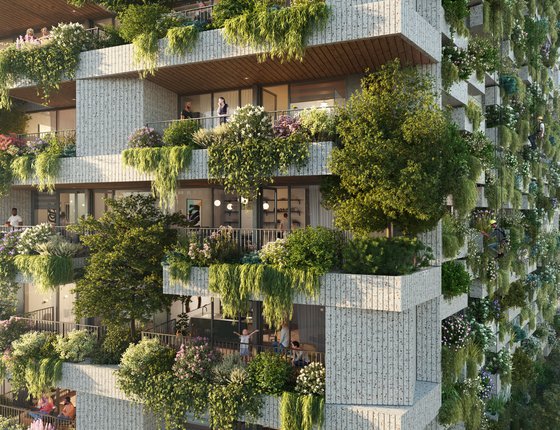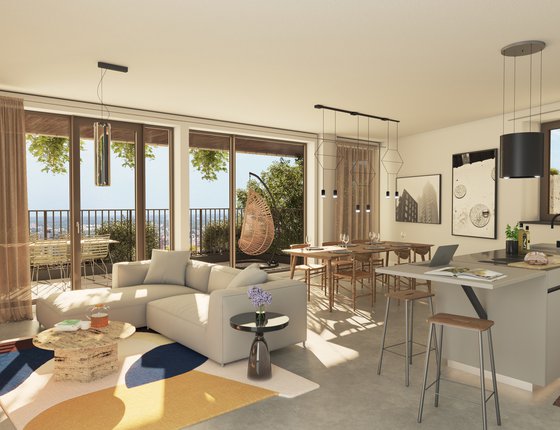 Tower II
Tower II, the MVSA tower, is the opposite. Here, the verdant greenery is located on the inside and from there, goes outside. This makes it more 'extravert' in character.
Our approximately 70-metre tower was designed with a greenhouse aesthetic in mind and features many (winter) gardens and naturally-lit atriums. Green emerges from the inside-out: gigantic windows open on summer days to allow the nature inside to connect with the nature outside.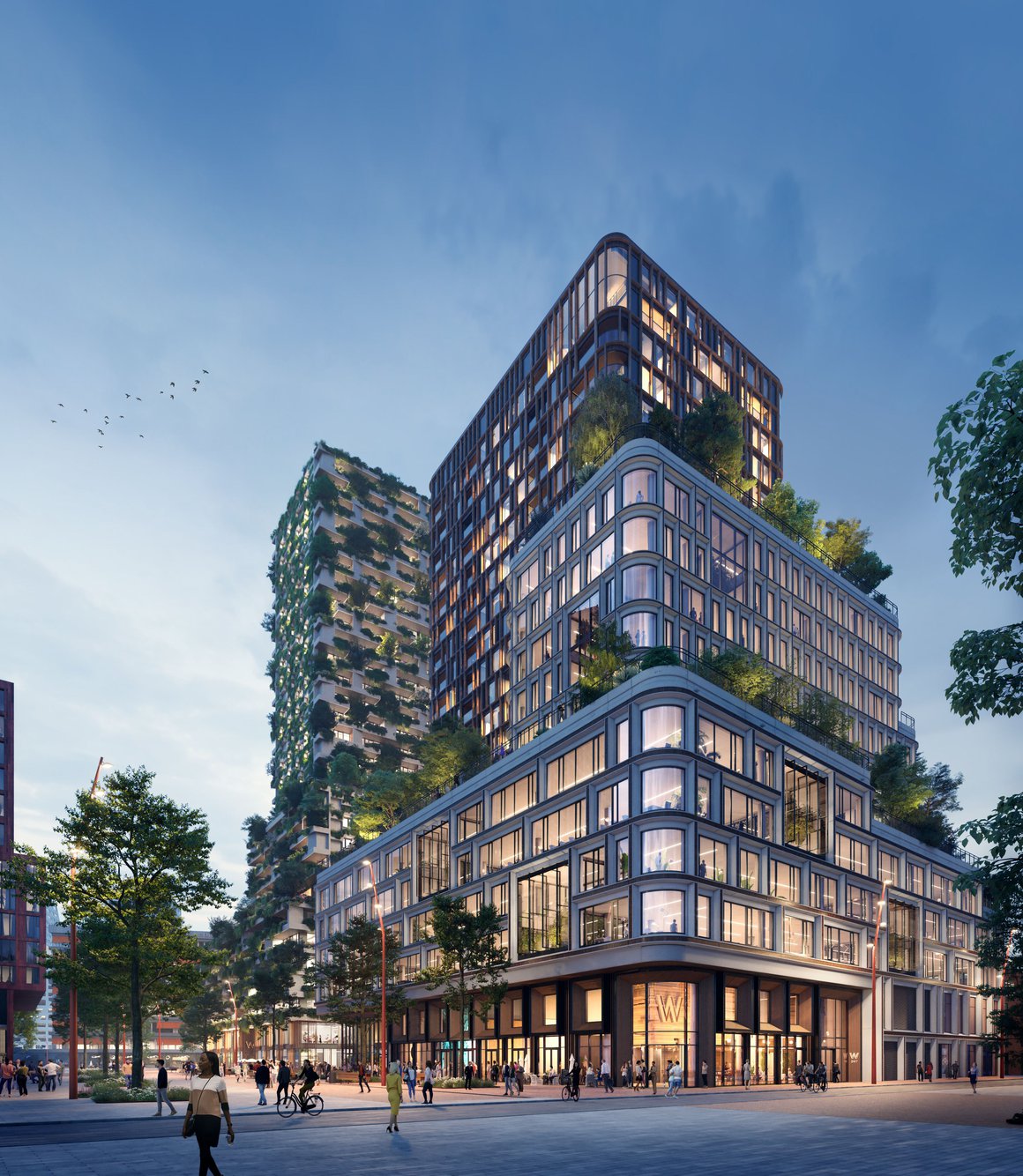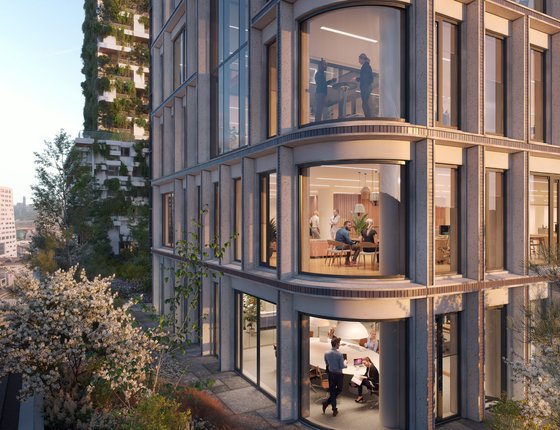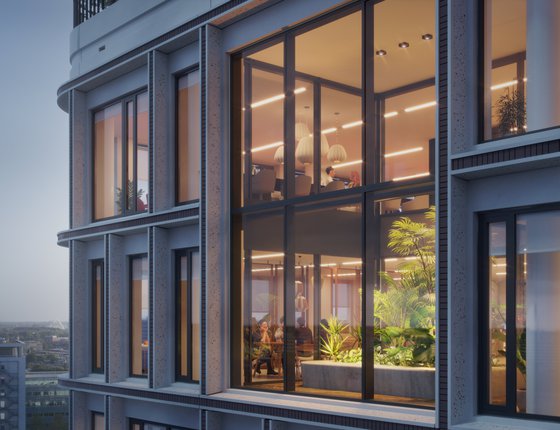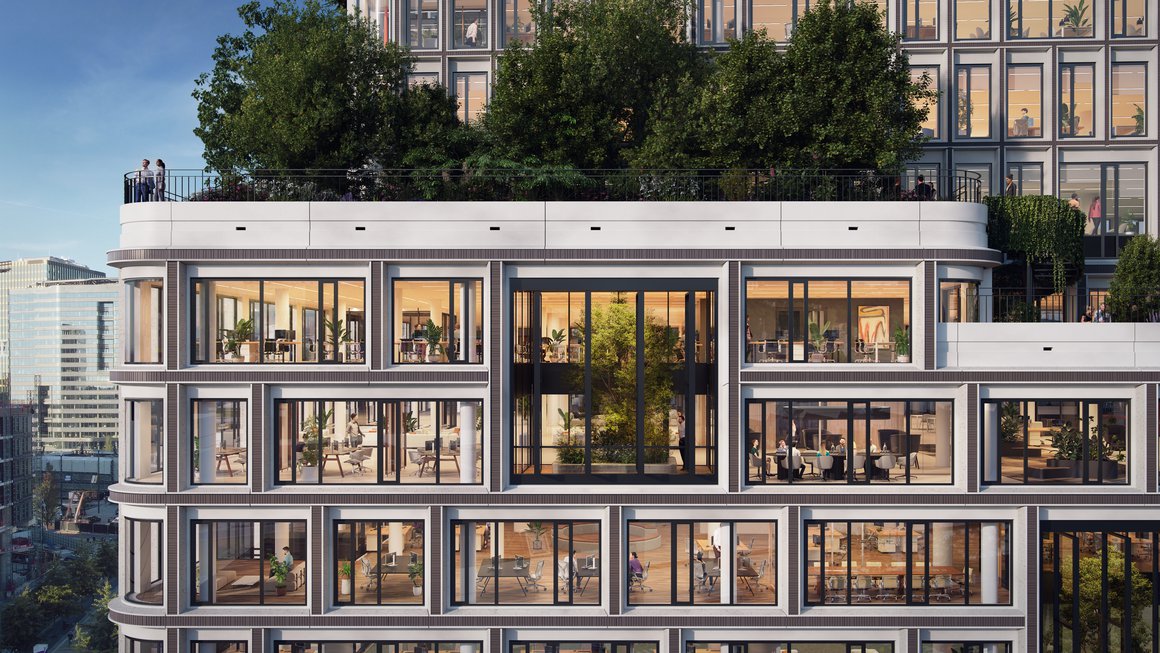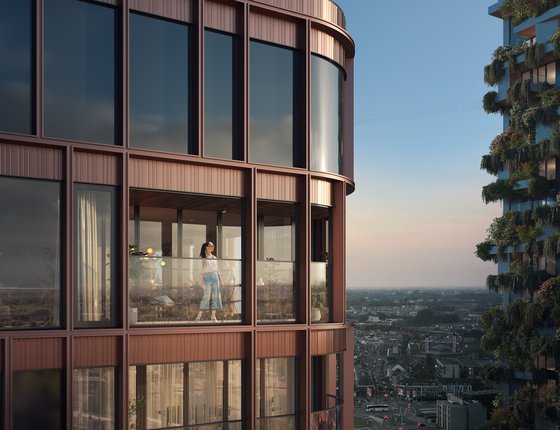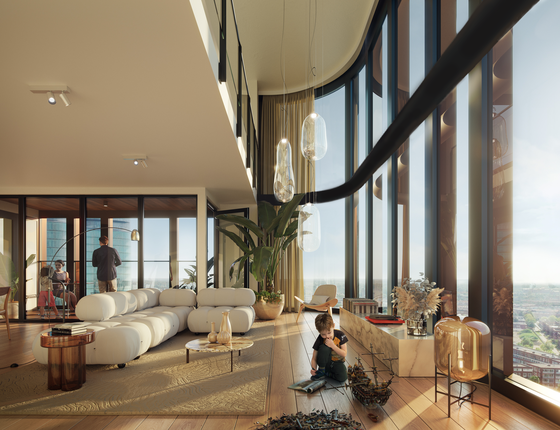 The MVSA Tower is finished in sleek, tactile and sustainable materials, with ceramic elements nodding to Utrecht's rich craft history. The staggered height of the building creates a spectacular 2,200 m2 terrace nurturing an abundance of trees and plants. This luxuriant green oasis moulds the experience of the building inside, too. Wonderwoods houses several winter gardens of which some have folding doors, allowing them to be opened up to the outdoors. Residents have access to a 200-m2 public greenhouse and office workers can enjoy a 12-m-high atrium on the second floor. The inviting plinth on which the building sits houses a variety of strategically placed facilities, creating a sense of scale and erasing the border between public and private. An 'experience gallery', bike-hire shop, tea garden, healthy snack bar, organic supermarket, wellness gym and live-in ateliers encircle Wonderwoods' façade.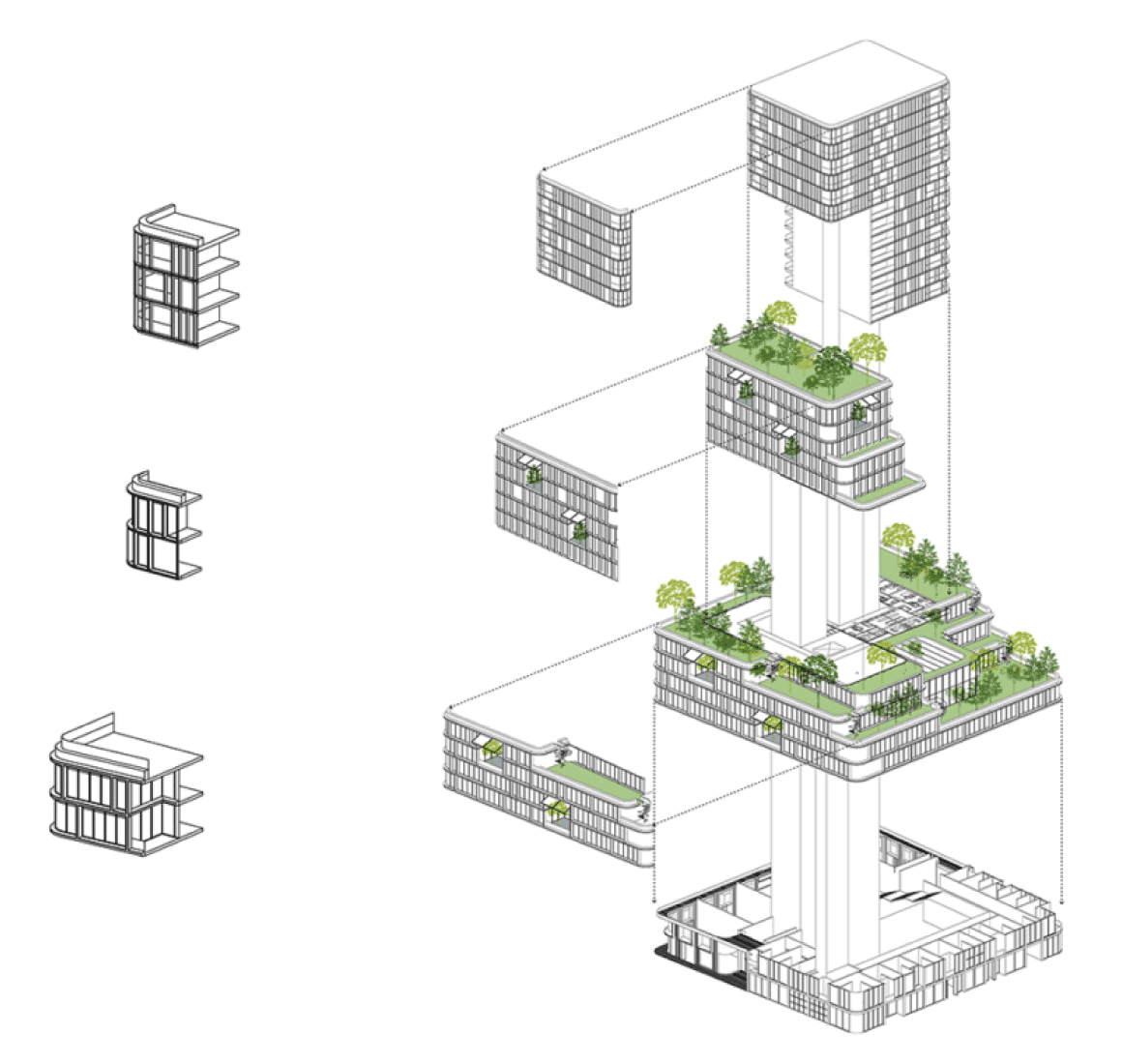 Healthy urbanism
With its combination of exciting and functional architecture, a high sustainability index and luxuriant greenery, Wonderwoods will define the new area around the Jaarbeurs designated as the Healthy Urban Quarter (HUQ) by the rapidly growing city of Utrecht. Located on the Jaarbeurs Boulevard, which is traversed by 1.5 million pedestrians annually, Wonderwoods form an important visual connection between the large-scale development around Central Station and the more intimate dimensions of the Beurskwartier.
Apart from apartments and offices Wonderwoods will house healthy restaurants, shops, a fitness area, education facilities, bike parking places and a public leisure space and presents itself as the new healthy centre of Utrecht.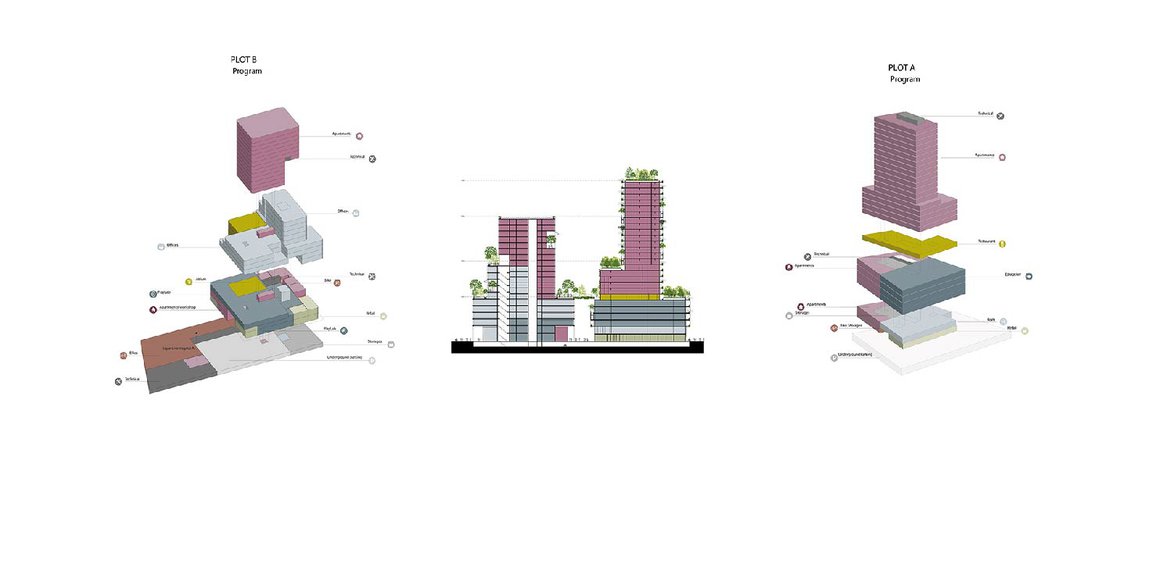 Nowhere
Nowhere is an astounding active experience for the general public, playfully triggering the senses and powered by cutting-edge technology. Immersed by highly sensory and interactive art exhibitions and installations, audiences discover the impact of emerging technologies and scientific breakthroughs on their life.
Nowhere is a cutting-edge ArtScience Museum, wherein art, science and the public all come together and experience this testing ground for new inventions and playground for the future.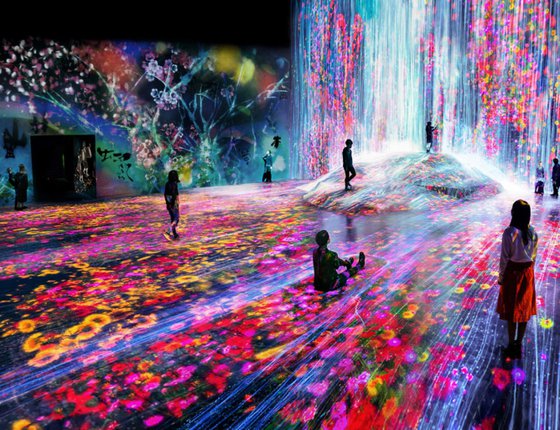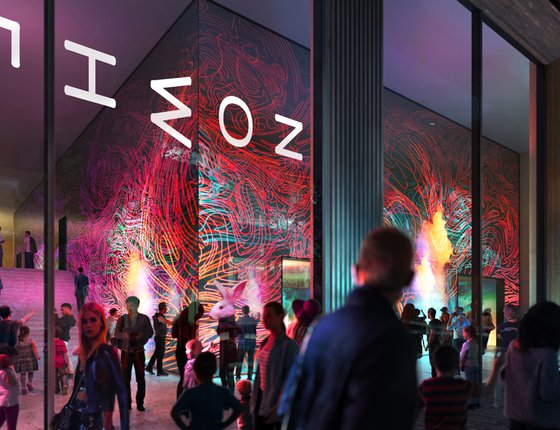 Organic architecture
Wonderwoods will be a shining example of the architecture of tomorrow.
It will be built with nature in mind. Ecological principles will be woven throughout the fabric and structure of the two towers.
The vegetation provides natural shade. Trees and shrubs on the roofs and balconies keeps the heat out during summer – and in during winter.
Ample daylight is optimised thanks to the smart use of glass surfaces in the architecture: areas that require little daylight have been placed in the centre of the complex.
The vegetation throughout acts as a natural sound barrier to foster a calm, relaxed atmosphere.
Green transportation by a mobility concept for users of the building is also integral to our concept. We will therefore offer together with We Drive Solar the use of electric cars, e-bikes and bicycles and provide ample parking and charging stations.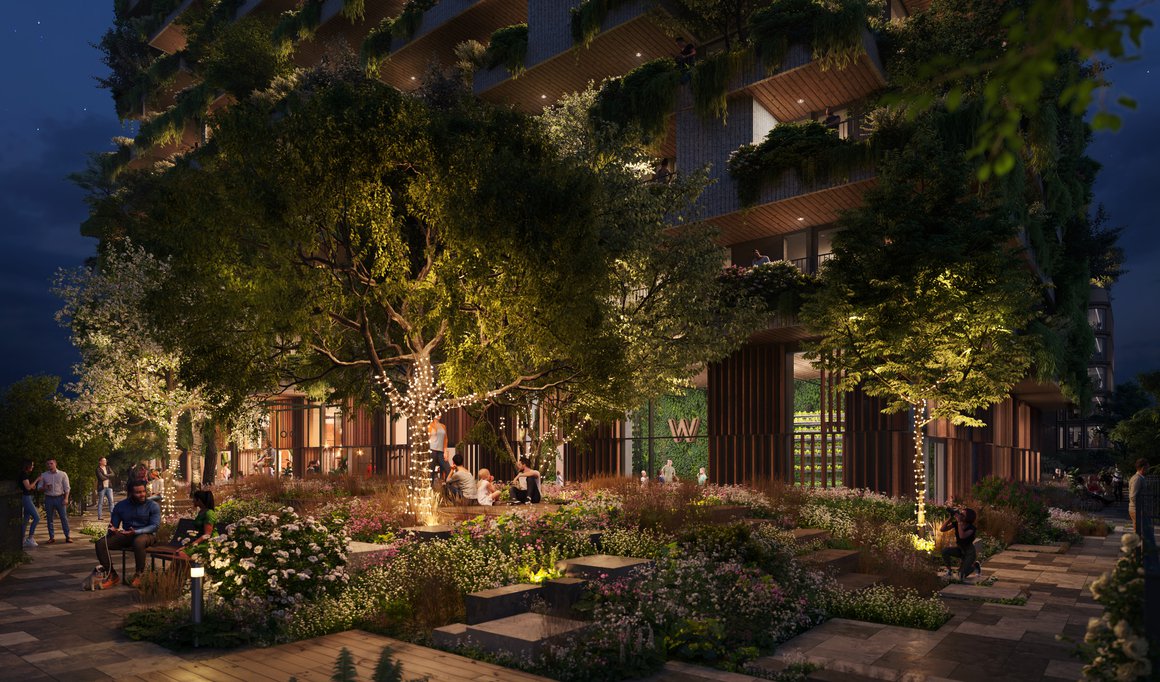 Planetary and human health
Wonderwoods' lush gardens and vertical forest allow some 10,000 trees, shrubs and flowers to flourish – the equivalent of an entire hectare of woodland. The greenery absorbs 5,400 kg of CO2 a year, while simultaneously producing 41,400 kg of oxygen.
Wonderwoods is sustainable in other ways, too. With the aimed WELL Building Standard™ certification for residential and BREAAM Excellent certification for offices, the building supports both planetary and human health. Its future-proof design is flexible and adaptable, ensuring a long life.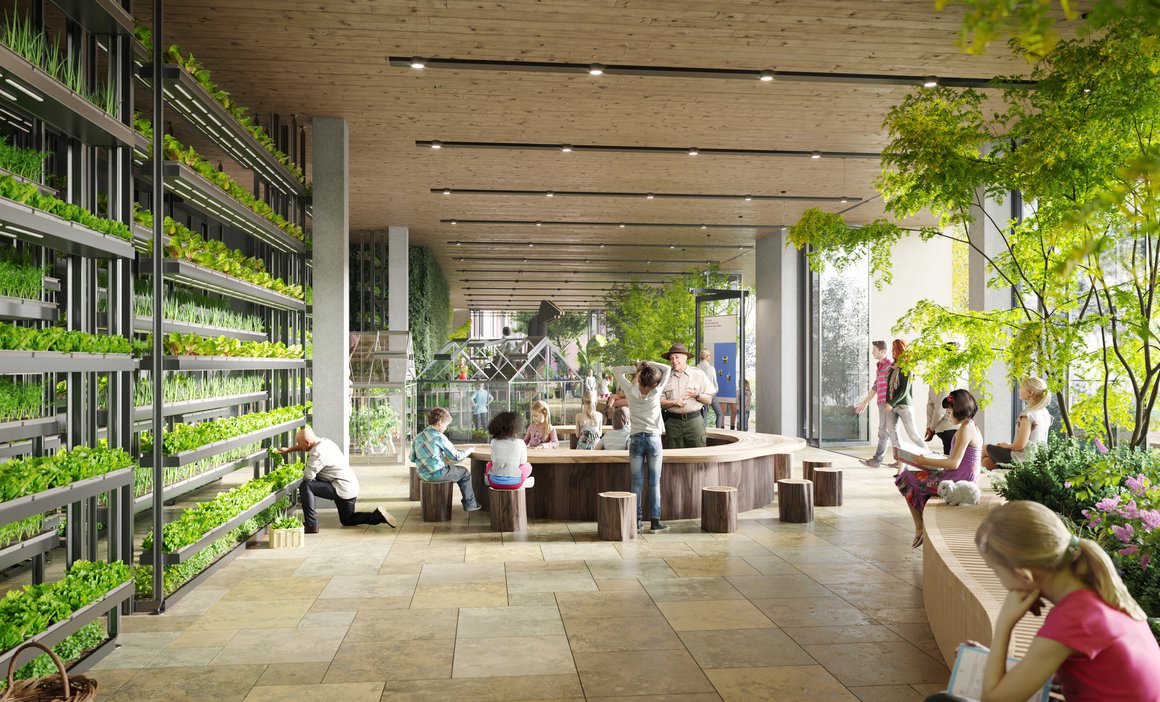 The Adventures of Woody the Nuthatch.
Wonderwoods aims to inspire and not just with architecture. Wonderwoods is more than just a building. We want everybody to learn about the wonders of our woods whether you're young or old.  Wonderwoods has something for everybody.
Wonderwoods would like you to know how it grows and introduce you to some of its feathered friends in a fun and playful way because it believes that playing frees the mind and breeds happiness. Therefore, Wonderwoods has created its own Vertical Forest Hub and its own kids book called 'Woody's avontuur' (in Dutch) and The Adventures of Woody the Nuthatch in English. Woody is its cute little mascot. Long ago, many birds left the city after countless trees were chopped down to make way for homes and offices. But soon, they'll be flying back into the city- to Wonderwoods.
During this year's children's book week Wonderwoods had the mayor of Utrecht Jan van Zanen read The Adventures of Woody the Nuthatch to the children of public school 'De Koekoek' in Utrecht. A great and inspiring day of which we hope more will come.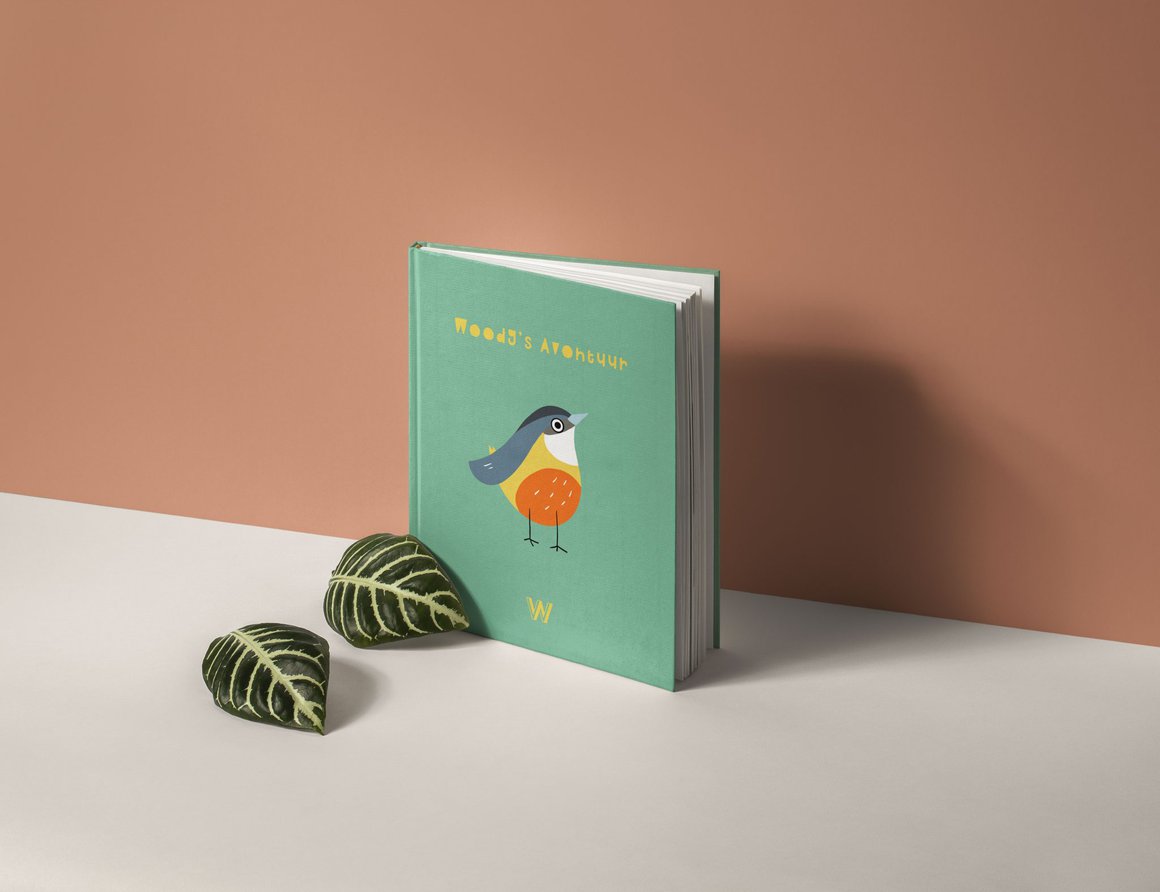 With these kind of initiatives Wonderwoods wants to spark children's imagination and stimulate curiosity because not everything needs to be digitally right?
Want to get your hands on a copy of this children's book? Keep an eye on G&S's social media channels. Every now and then, they will announce when a limited number of copies will become available at the Stadskantoor Utrecht.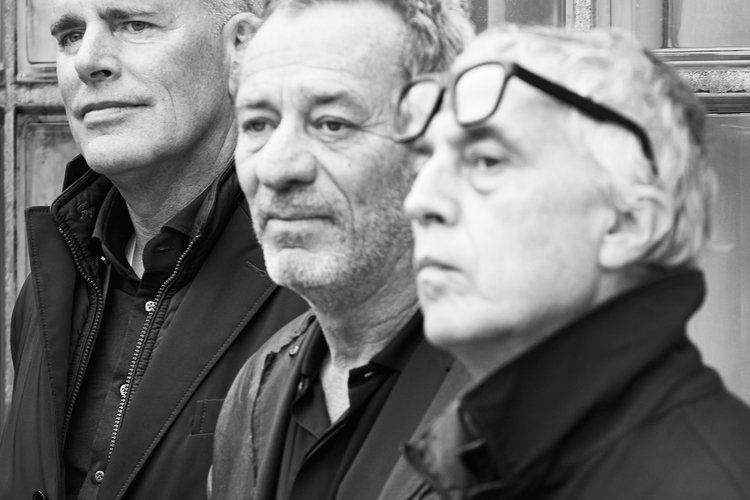 CLIENT

Wonderwoods Development (G&S Vastgoed & VolkerWessels BVGO)

ARCHITECTURAL ELABORATION

INBO (Boeri Tower)

MVSA (MVSA Tower)

PROGRAMME

Mixed-use; offices, residential, hospitality, experience, retail, parking
NEWS
AWARDS
European Property Awards
Best Mixed-Use Development Europe 2021-2022
MIPIM
Mixed Use winner 2019
Future Project winner 2019
WAN Awards
Shortlist Future Projects