Project information
Location

Groningen

Project completion

2013

Building surface

17.000m2

Client

Municipality of Groningen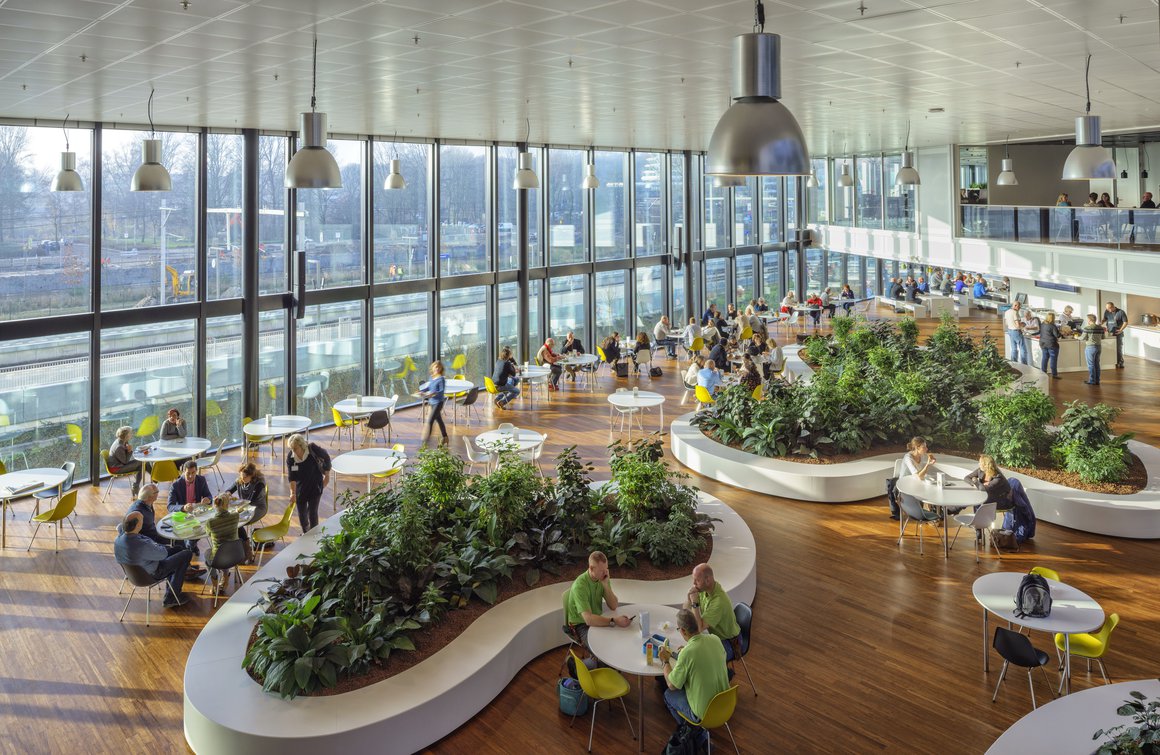 Places to meet
A welcoming, functional and flexible place for employees and citizens and the most sustainable office building in the Netherlands – these were the ambitious requirements of the city of Groningen for its new 17,000 m² council building on the Harm Buiterplein. We translated the brief into a carefully designed, innovative city hall featuring large, open spaces complete with indoor gardens, forming a relaxing, naturally lit inner landscape.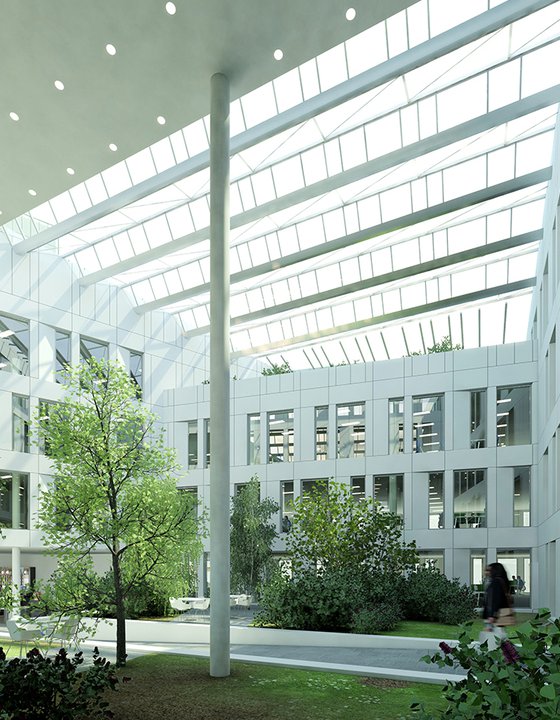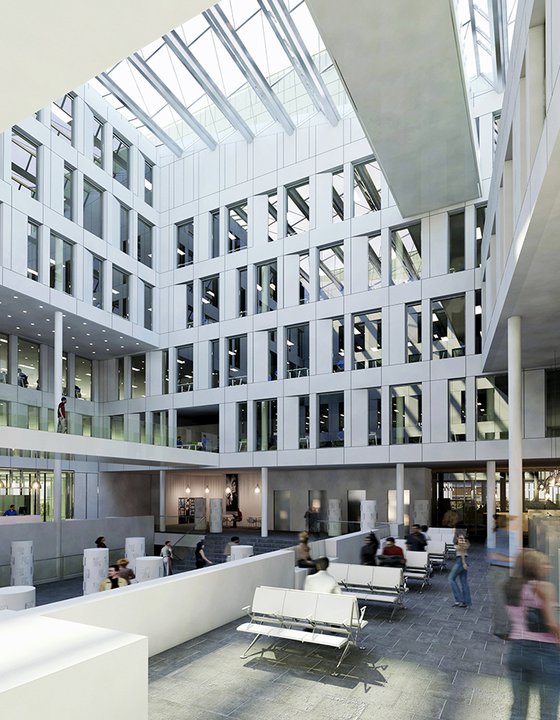 A public face
The larger atrium on the east side of the building is open to the general public, and so forms the city council's public face. Lit by daylight and featuring an indoor garden, the atrium is a bright, friendly space for both office staff and city people. There are various places to meet, including information desks and consulting rooms. We carefully placed these meeting areas so as to limit additional security measures to a minimum, to preserve the building's approachable character.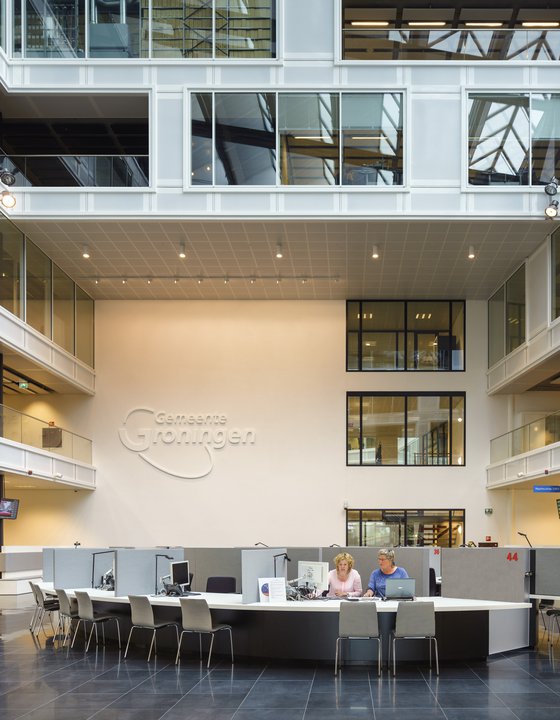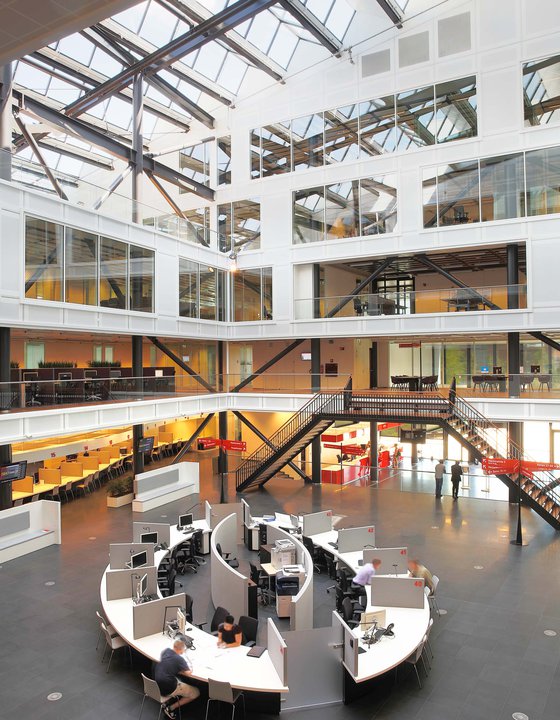 Daylight and greenery
On the west side of the building, the second atrium is smaller and intended as a meeting place and lunch area for city staff. Like the larger atrium, it introduces abundant daylight and greenery into the building, creating a pleasant and relaxing atmosphere and encouraging interaction.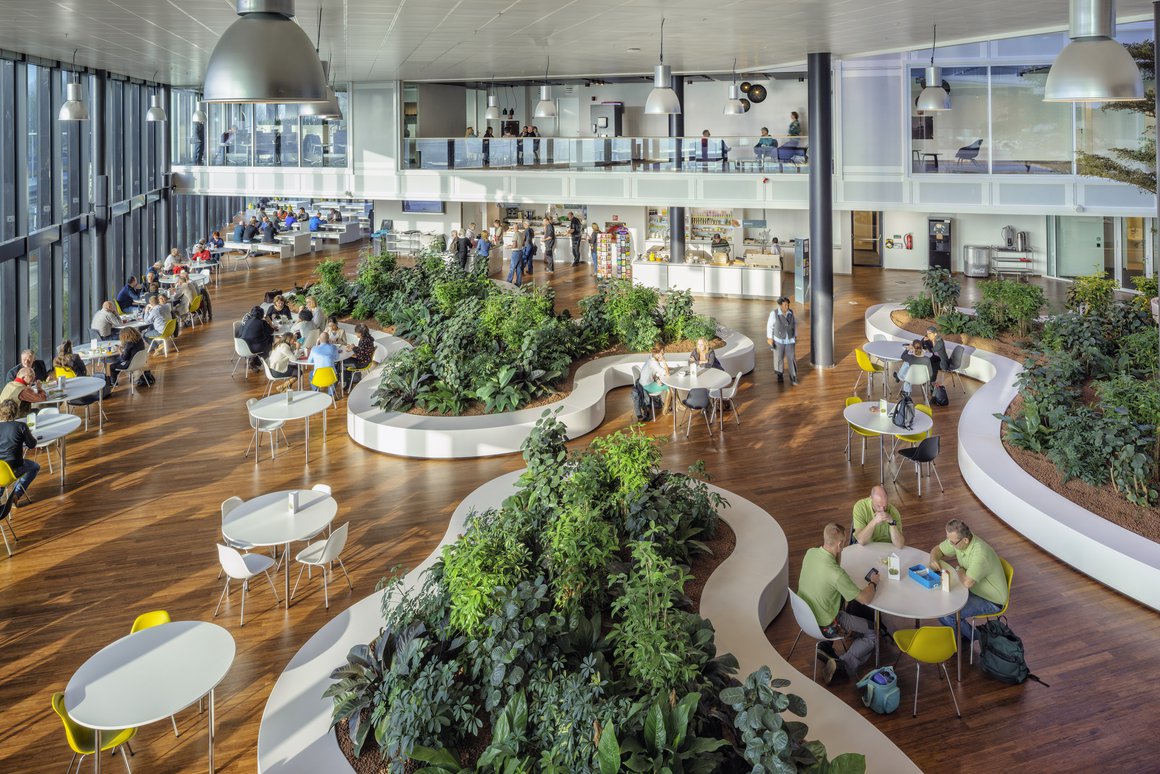 Innovative solutions
The brief from the city of Groningen called for a high level of flexibility and sustainability – which naturally led us to some innovative solutions. One of these involved using a new type of hollow-core concrete flooring. This meant that we could create greater column-free spans, meaning that large meeting rooms could be realised more easily. In addition, integrating systems into the hollow-core flooring means that technical adjustments can be made if the spatial layout is changed.
New ways of working
Our flexible design concept ensures that the building easily unites its functions – private offices plus public and semi-public spaces – under one (partly glass) roof, and that it will be able to adapt to any future developments in organisation and operation. The layout was inspired by new work-style concepts. In our design, activity-based workspaces are spatial building blocks that can be moved, mixed and matched throughout the building's overall grid.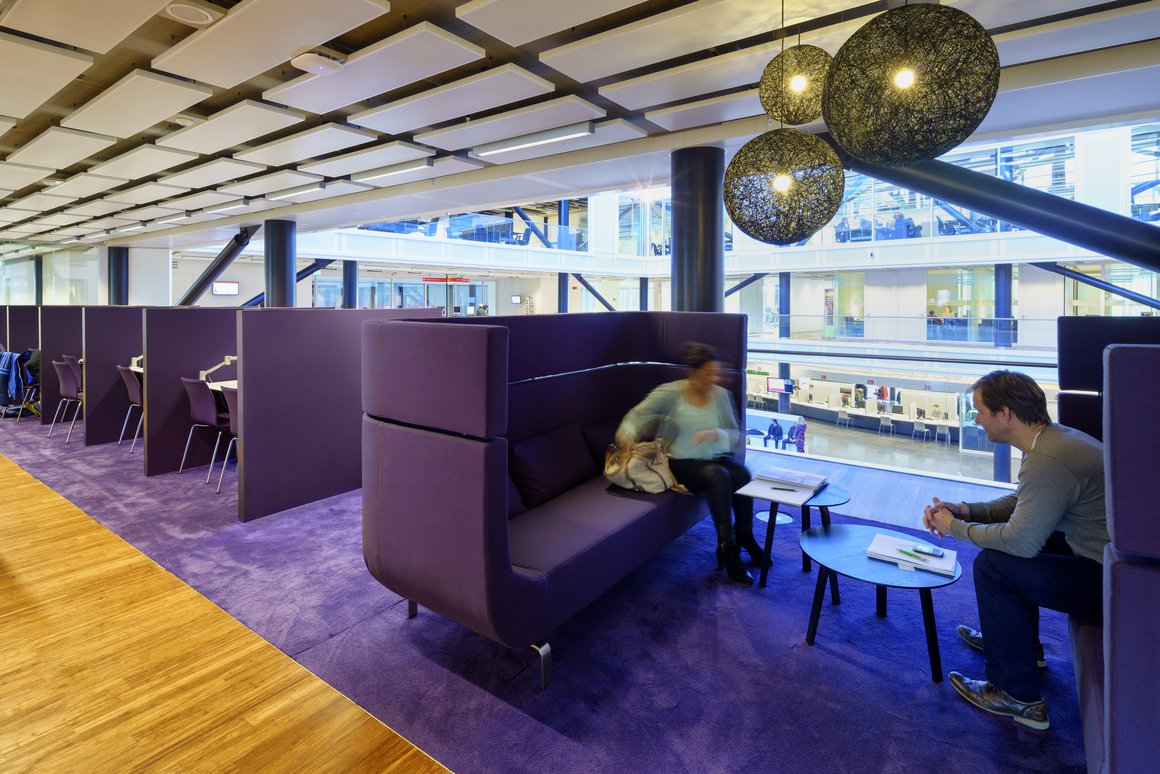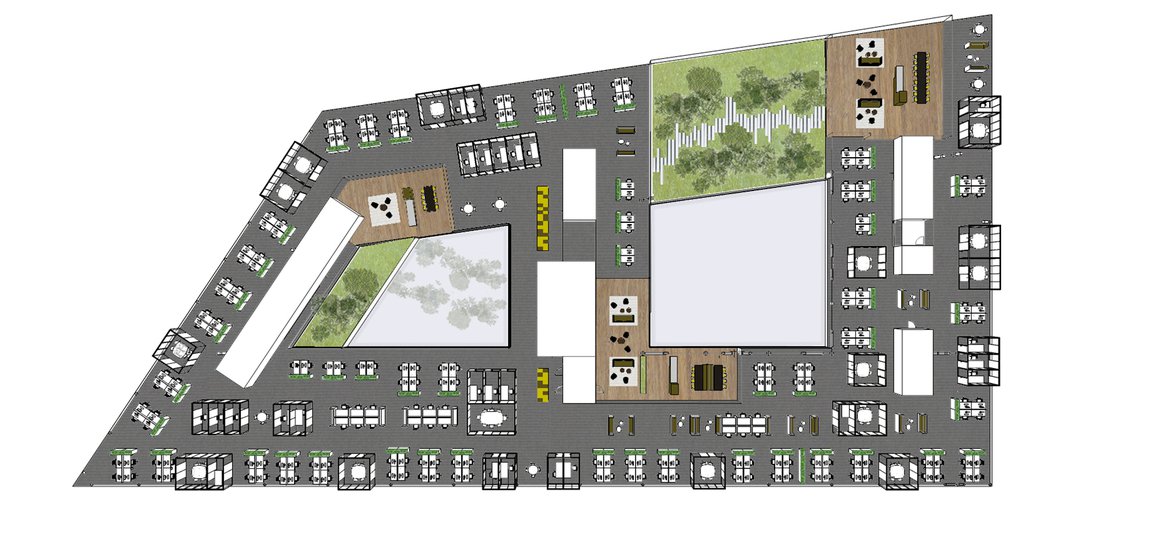 Sustainable façade
A high level of sustainability was a key requirement for our new city hall for Groningen and our custom facade system is crucial in achieving that. Constructed as triple-glazed modular panels, it adapts to the different sides of the building with various thicknesses of insulating foam, depending on the thermal conditions. Its sharply etched profile also gives the building its signature look.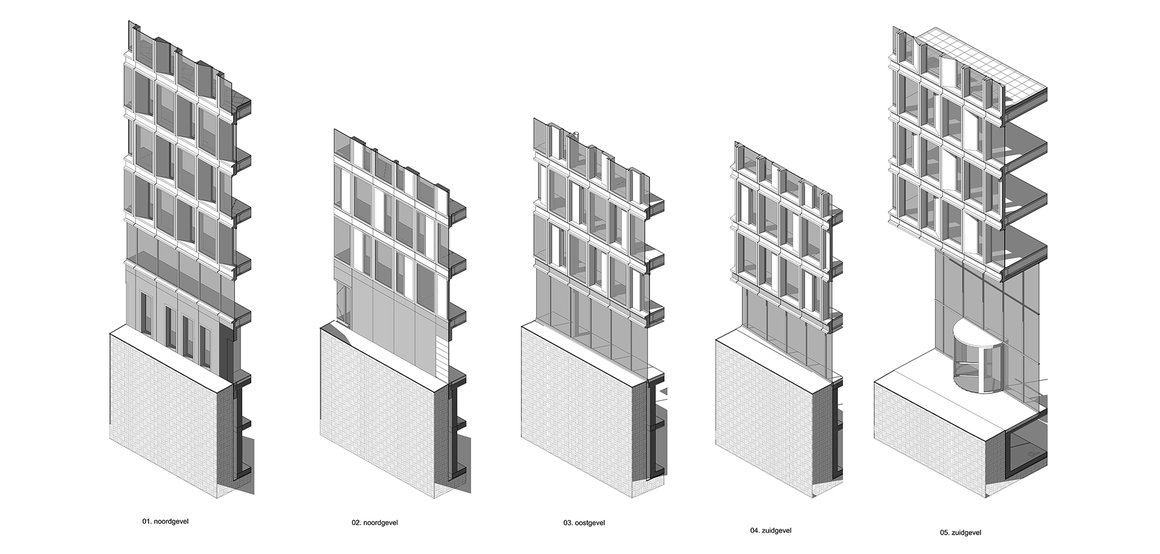 Crisp and white
Our bespoke facade for Groningen city hall is not only functional: it also gives the building its remarkably sculptural quality. In bright white, with deep-set windows and crisply profiled edges, it creates an intriguing, high-relief effect. Its distinctive looks arise from our use of techniques adopted from both the shipping and concrete industries in order to develop it. As ever, we were happy to apply knowledge from outside the architectural profession in order to come up with the right solution.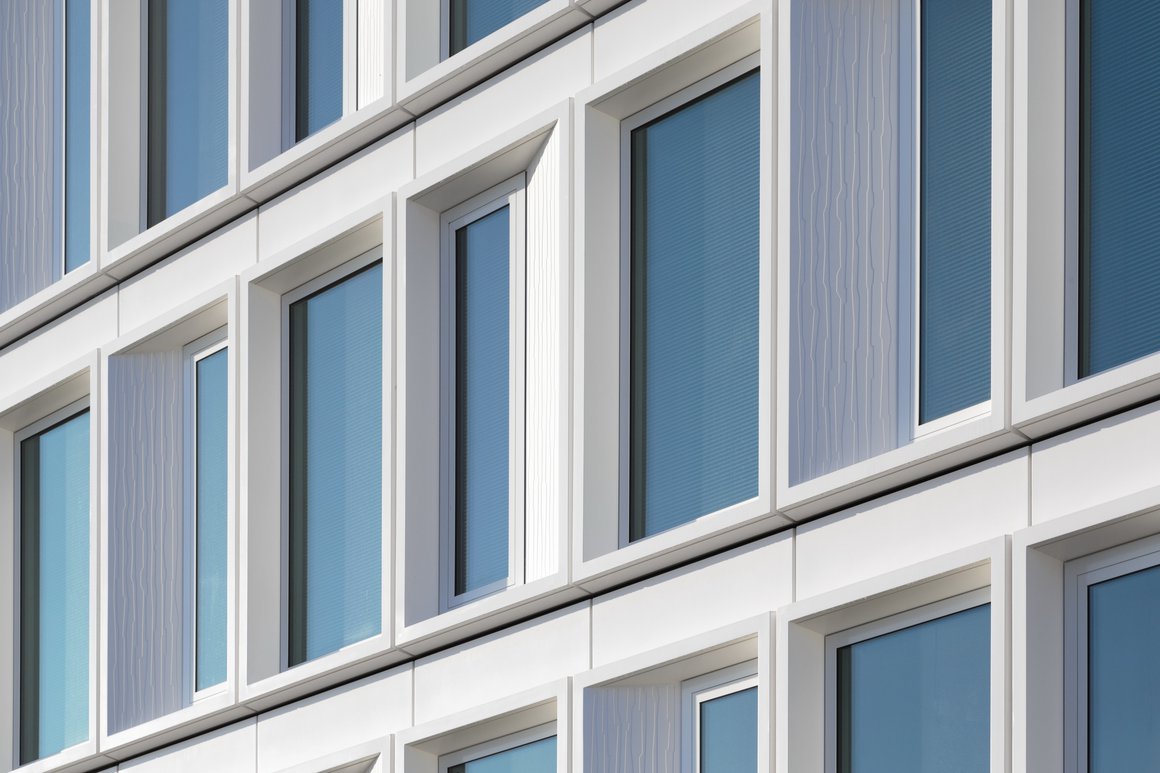 Light yet strong
The façade combines high strength and a low weight, thanks to the gel-coated polyester that we used to make it. The modular construction, based on large, seamless elements, has a reinforcing and stabilizing effect. We created the panels using moulding techniques developed in the concrete industry. Each moulded panel consists of two thin layers of polyester composite with a layer of insulating foam in between. The panels also include triple-glazed aluminium window frames. The result is a high-quality façade with excellent insulating properties and low levels of maintenance.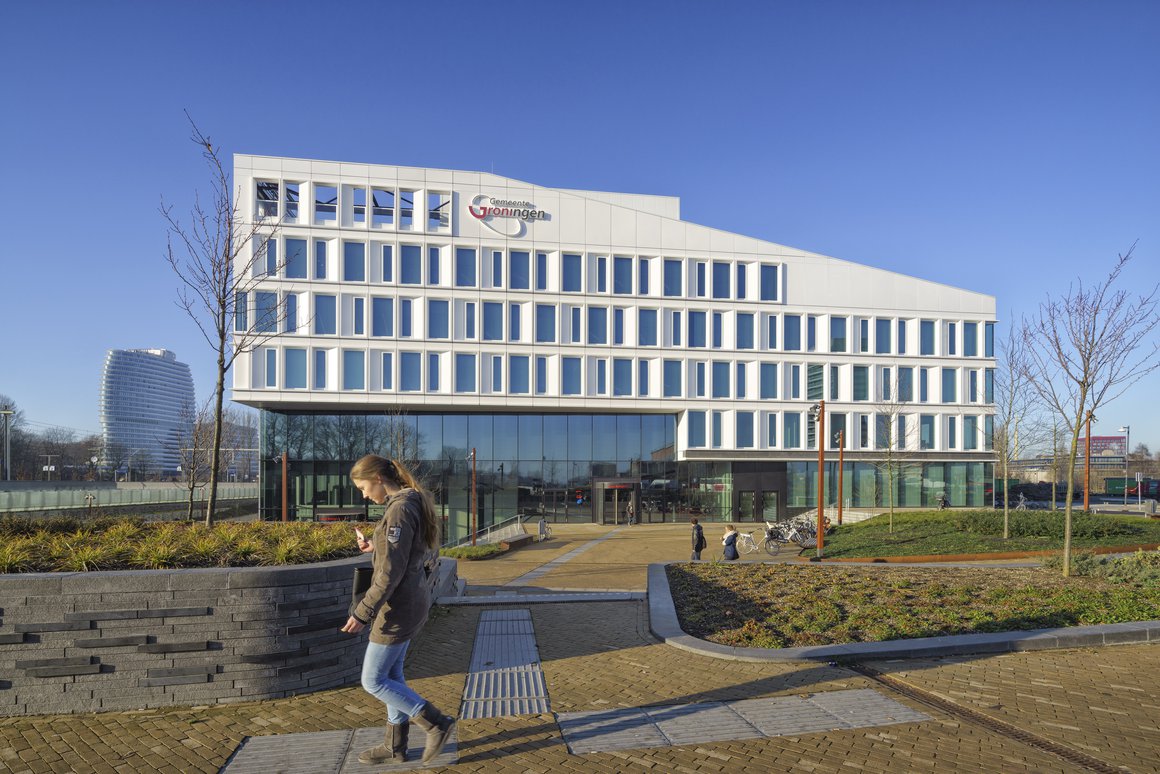 Factsheet
Sozawe (City Hall Groningen)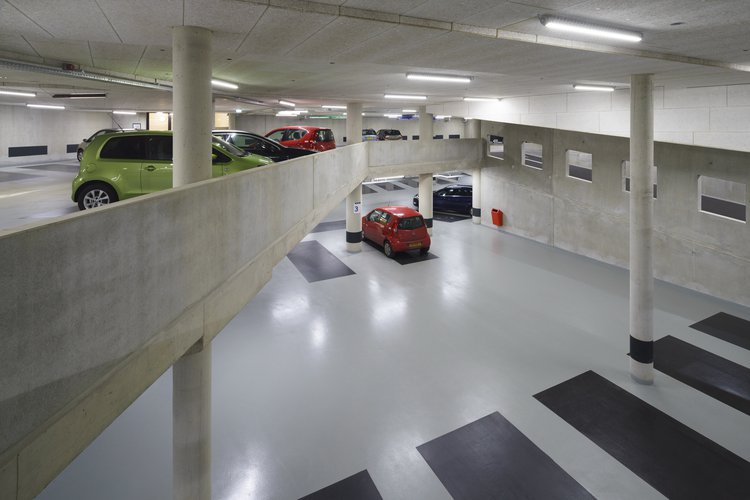 PARTNERS

Karres + Brands Landschapsarchitecten, Draaijer en Partners