Project information
Location

Almere

Project completion

2010

Building surface

20.000 m2

Client

City of Almere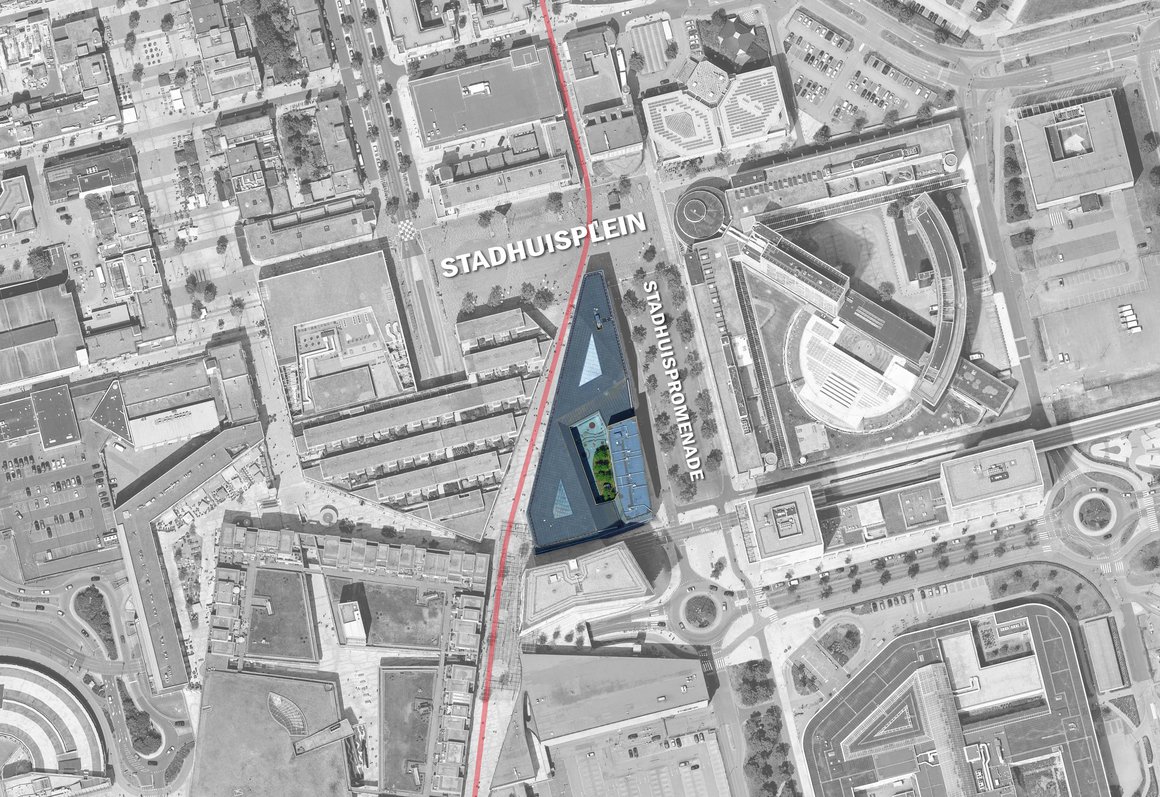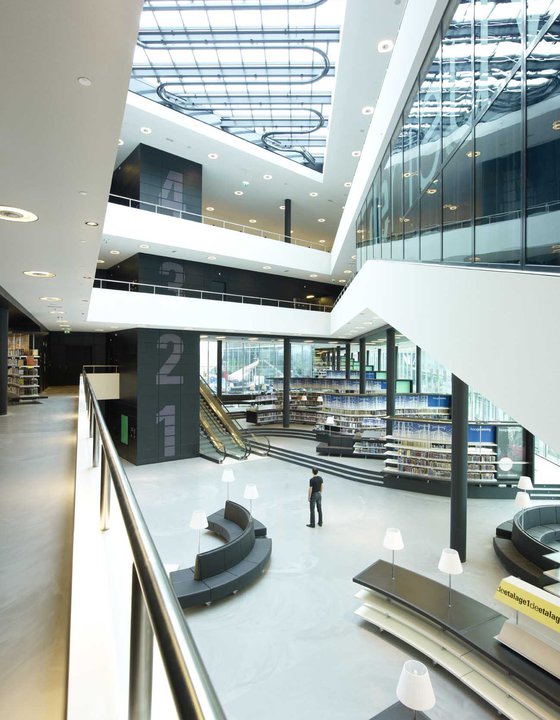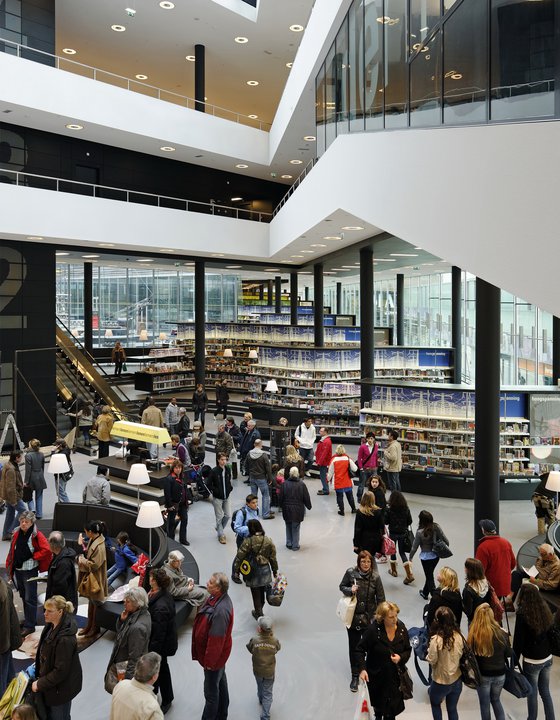 Focal Point
This multi-purpose building forms a focal point on the city's Stadhuisplein. Its large glass entrance way is located on the square and the library itself is situated on upper floors, accessible via an escalator. The library itself can be clearly seen from all directions, creating a strong link between its function and the activities taking place out on the square.
Stadhuisplein day ©JeroenMusch

Stadhuisplein night ©Wim Ruigrok
Monolith
During the design process, we drew inspiration for the library's look and feel from a monolith – a pillar of rock rising up above its surroundings. In practice, this resulted in concrete elements with natural stone surface finishing and patterning. Large glass walls emphasize contact with the outside world, while skylights and roof gardens organically connect the building's individual components.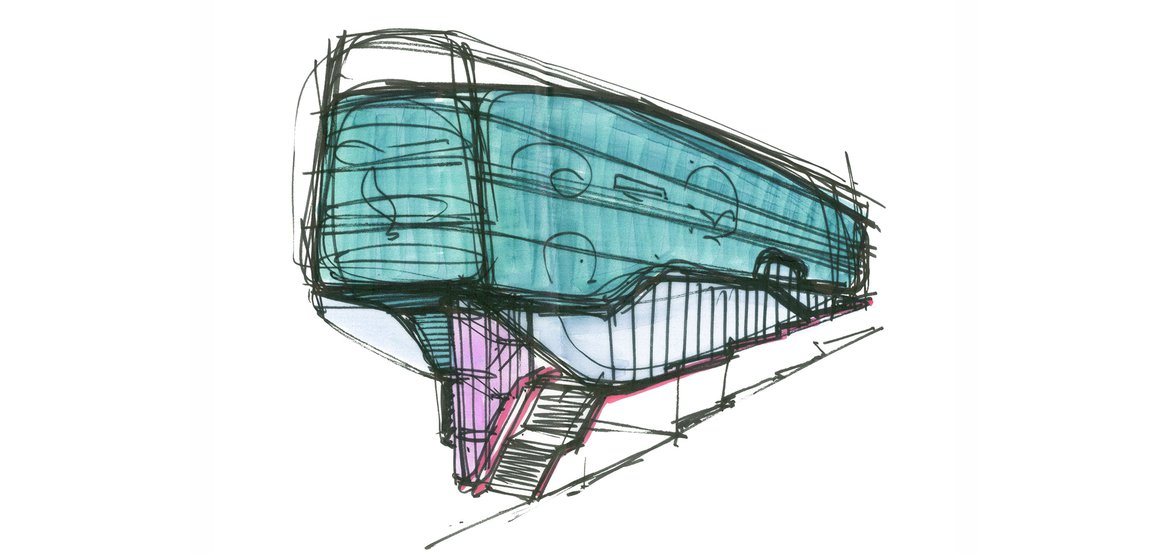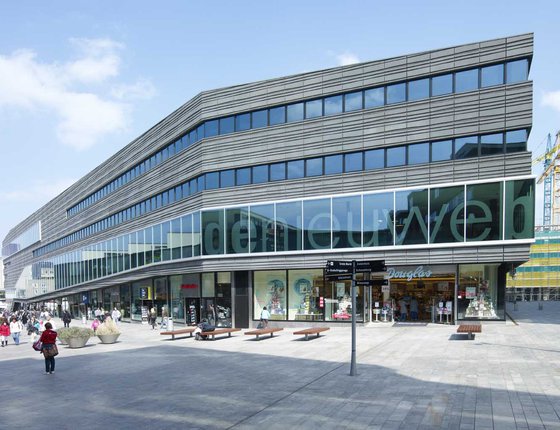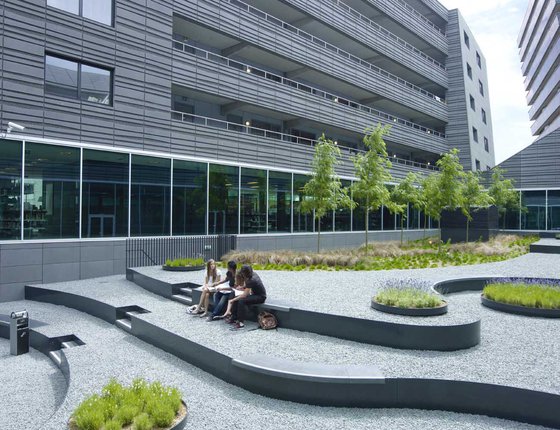 Interior
Interior finishing is subdued with an emphasis on spatial perception. Ceilings are soundproofed, and stairways, stairwells and lifts are clad in black perforated panelling. Furniture and fixtures were designed for the library by Concrete and Thonik.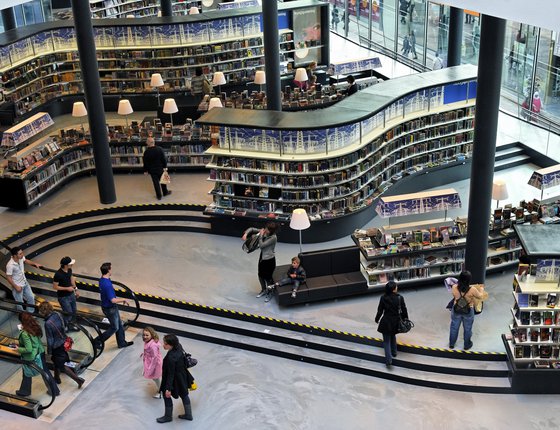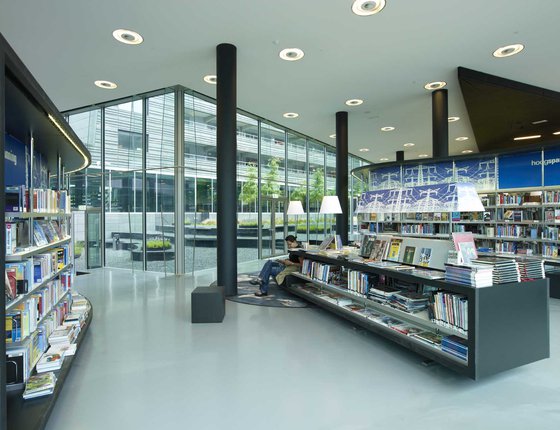 Apartments
Apartments are clearly segregated from public areas, yet are inextricably intertwined with the whole. On their south-east corner, apartments have a view that extends from the town hall to Weerwater lake. On the other side, apartments border on an inner courtyard. This creates a buffer between private and public library areas and provides residents with privacy. We incorporated wide galleries, so that residents would be able to enjoy the evening sun in peace and quiet.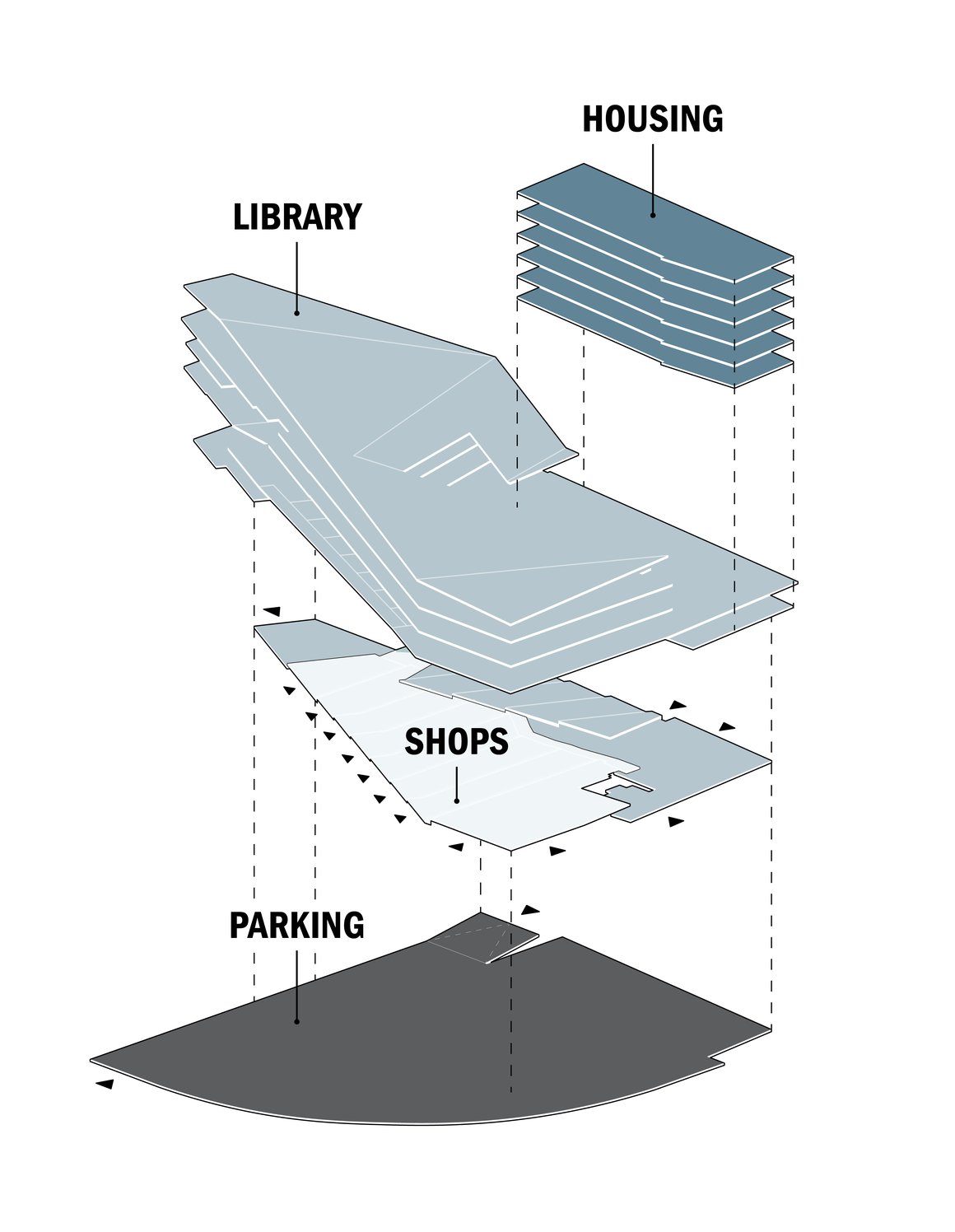 Clarity & Flexibility
The library's floor plan reveals several loops resembling figures of eight. Using this layout, we created clarity and flexibility for the library's routing and usage. The library consists of a series of interconnected rooms that together form a route measuring 400 m in length. Ascending terraced floors lead library users from the first to the second floor. Routing starts on the second floor and from a public indoor garden leads on to either the auditorium or to the study centre on the fourth floor via an escalator.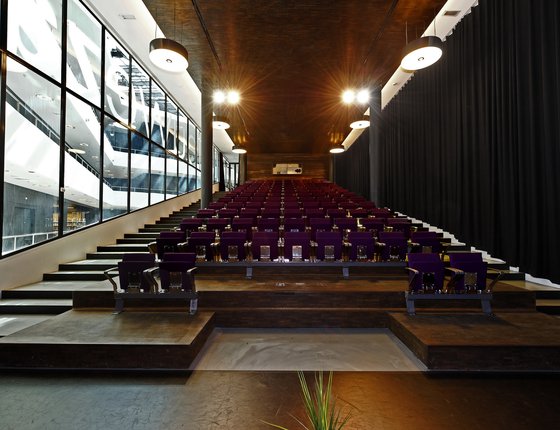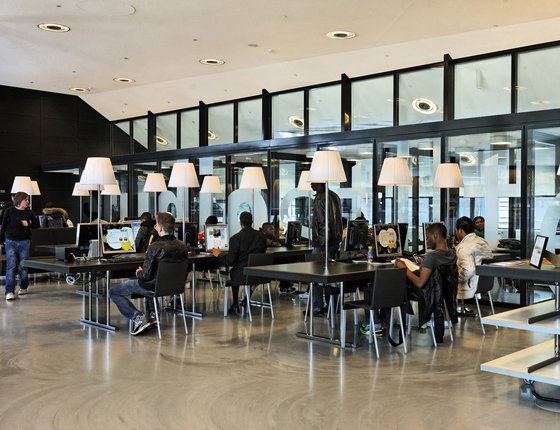 Ground floor

Level 01

Level 02

Level 03

Level 04

Level 05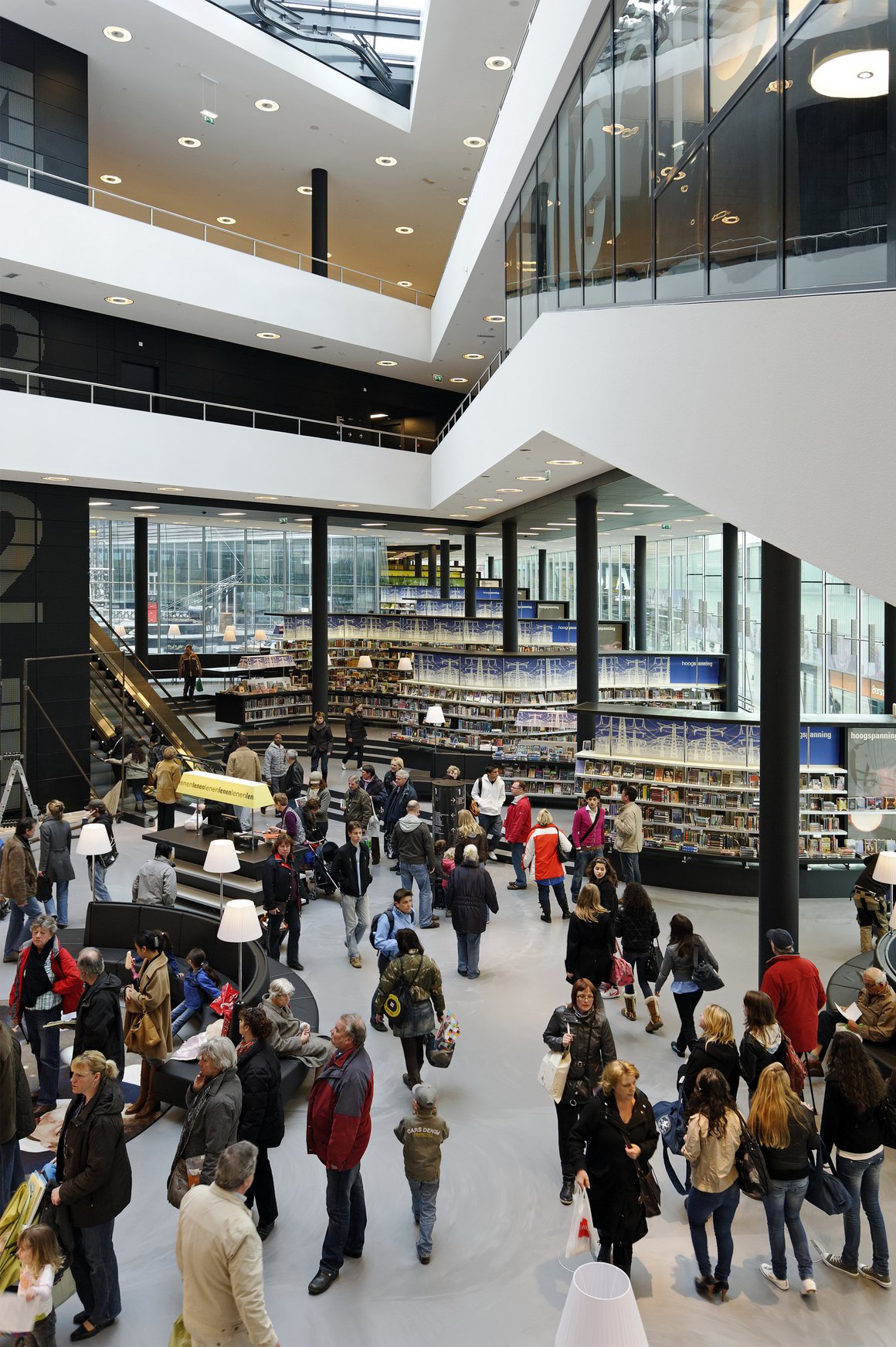 Factsheet
New Library Almere , Almere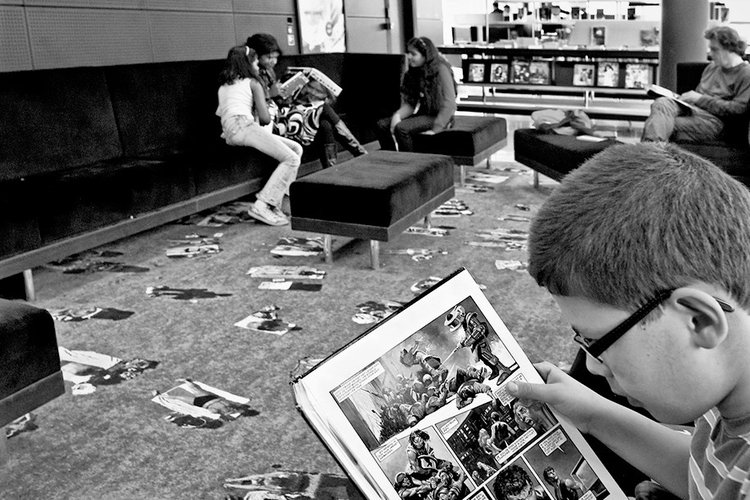 AWARDS
Architecture Award Almere (Architectuurprijs Almere) 2010


Library of the Year (Beste Bibliotheek van het jaar) 2010